Andy Talley will step down following 2016 season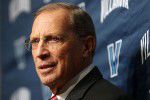 LISTEN TO TALLEY'S FULL PRESS CONFERENCE HERE
Longtime football head coach Andy Talley is stepping down at the end of next season.
Talley, who has been head coach of the football program at Villanova for the last 31 years, will retire at the end of the 2016 season.
"It has been a privilege to be the head football coach at Villanova University for the last 31 years," Talley said at Wednesday's press conference. "As we move into my final season, the future is bright. I am proud of all of our players past and present, as well as the assistant coaches that have worked with me."
Talley's record as a head coach at Villanova currently stands at 221-133-1. He has led the Wildcats to 11 NCAA playoff appearances, six conference championships, and a national title in 2009.
The Wildcats will be in good hands after Talley's departure. Villanova has already named current assistant head coach Mark Ferrante as his successor.
Ferrante has been Talley's right hand man for the last couple decades. He has spent 29 years as an assistant to Talley, including 17 seasons as the team's assistant head coach.