MLK Day of Service reaches record participation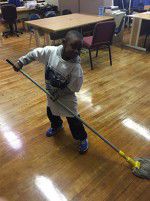 For many universities across the country, Martin Luther King Day means a three-day weekend; for over 700 Villanovans, this was not the case. "I appreciate MLK day so much because Dr. King was a public servant that fought for justice, fueled by his own desire for justice," said Kathleen Ayuk, senior finance chair of the University's MLK Day of Service. "He didn't get paid, and he didn't do it for publicity or stardom. That is why it should be a day on, not a day off."
Villanova's ninth annual MLK Day of Service took place on January 18. Villanova students traveled throughout the greater Philadelphia area, offering their services in various capacities. Ayuk worked to raise money for the operations involved in Day of Service. "I'm really excited to have over 700 volunteers participating, which is the most in the history of Villanova MLK day of Service," Ayuk said.
This year Villanova welcomed onto campus a "Let's Move" camp, in which approximately 150 elementary school students come on campus and participate in activities with the university athletics teams. "I chaperoned this program last year and noticed how much the children enjoyed themselves. This is a wonderful opportunity for them to come to a college campus and be engaged in activities," Ayuk said. 
The event culminated with a dinner and reflection, which included a discussion about Dr. King, encouraging student to reflect on what they took away from the day. "Today my tap dance group, Nova Noise, and I volunteered at Holy Redeemer Catholic Church for the Chinese Community in Philadelphia," freshman Marissa Kurt said. "We helped a priest clean up their education center, library and grounds so the Chinese community can enjoy the beauty of this place that is so important to them."
Dr. King once said, "Life's most persistent and urgent question is, 'What are you doing for others?" For the past nine years, Villanovans have engaged in a unique outpouring of service to the local community to commemorate the extraordinary life of civil rights leader Dr. King. This day has the innate purpose to bridge a gap and move towards the "beloved community" Dr. King so vividly imagined.  Villanova's MLK Day of Service presents an opportunity for students to come together and serve those in need.
Photo courtesy of Matthew Powers