Villanova honors ESPN's Tom Rinaldi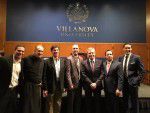 Twelve-time Emmy Award winner and six-time Edward R. Murrow Award recipient Tom Rinaldi was presented with another accolade to add to his distinguished résumé on Thursday night at 7 p.m. in the Villanova Room.
Rinaldi, an ESPN reporter, was presented the Fr. Bill Atkinson, O.S.A. Humanitarian Award by the university's Office of Disability Services. 
"It means a great deal; it's very humbling," Rinaldi said. "When Greg [Hannah] told me about it, I told him that while I appreciate it, I absolutely don't deserve it."
Instead, Rinaldi deferred credit to the leaders of LEVEL at Villanova. 
"The award should go to the people who are doing the work, not the people who are telling the stories of the people doing the work," Rinaldi siad. "In that humility, let me also extend my great gratitude to the LEVEL Office and the Nova Nation."
The Fr. Bill Atkinson, O.S.A. Humanitarian Award was established in 2012 to recognize an individual, group or organization that displays exemplary service to their community. 
"He's done a lot of pieces on the disabled and trying to raise awareness about disability issues in his sports pieces," Director of Disability Services Steve McWilliams said. "So we thought he was a good example of somebody who's improving the quality of life and improving awareness about someone who is living with disabilities."
A ceremony and a presentation were held in the Villanova Room of the Connelly Center. Rev. Rob Hagan, O.S.A, Assistant Director of Disability Services Greg Hannah, NBC reporter and professor Keith Jones, and Athletics Director Mark Jackson were all present to speak.
In the style of an interview facilitated by Jones, those in attendance got to know more about Rinaldi's persona, work, and his approach to the journalism field. 
Courtney Milton, Rinaldi's niece who is involved with LEVEL as a sophomore at Villanova, presented him with the award.
"We knew this was where we wanted to go," Hannah said. "He was the guy we wanted from the beginning."
Hannah praised Rinaldi for his documentary and consisteny promotion of Villanova's LEVEL program. 
"This year we chose to honor [Rinaldi] for his commitment to advocacy, awareness, and understanding of people living life in the face of adversity through his features," Hannah told Villanova.edu.
The award commemorates the five-year anniversary of Rinaldi's feature that profiled former Villanova men's and women's basketball managers Nick Gaynor and Frank Kineavy, both of whom have cerebral palsy. 
The piece revolved around Gaynor and Kineavy's relationship and impact on their respective teams and debuted on Feb. 12, 2011 on ESPN's College GameDay. 
"He is an amazing human being," Gaynor said. "I was thrilled to hear that he got the award." 
The GameDay feature came not too long after the debut of "Coming Off the DL," a film made by a social justice documentary class that focused on Gaynor and Kineavy. 
"That crossed our radar, and as soon as we became aware of the film, it was only a matter of when we were going to come to campus to do the story," Rinaldi said. "Everything we learned about each of them, everything we learned about all the work that Greg [Hannah] does, that's what brought us here."
The feature was shown on national television on ESPN's College GameDay and to a packed Pavilion crowd.
The positive reception towards the piece has brought great awareness to the subject on campus and has helped drive the foundation of LEVEL and the construction of a stronger network for the Office of Disability Services.
"We should all take time to recognize that individuals cab ivercine any challenges and offer our society a wide range of talents and abilities," Rinaldi said.
Aside from his direct interaction and connection to Villanova, Rinaldi has made other iconic features surrounding those with disabilities and how they have overcome challenges through sports, as well as his regular duties as a sports reporter for ESPN.
"It's the stories that you hope can inform and inspire, and move people," he said. "It's just such an honor and a pressure to have people trust you to tell their stories. Many of the times, those stories cover the most precious territory of their lives and here you are trying to present it to the country."
Past award winners include Dr. John Tozzi, M.D., founder of the Alexandra Rose Tozzi Foundation, John Canuso, who established the Canuso Foundation, and former Rutgers football player Eric LeGrand.
The award is named after Fr. Bill Atkinson, who was an Augustinian priest on Villanova's campus. 
When he was 19, Fr. Atkinson was paralyzed from the neck down after a sledding accident. 
He became the only quadriplegic to be ordained and lived a full active life as a teacher, where he impacted the lives of many students on campus. 
The Fr. Bill Atkinson, O.S.A. Humanitarian Award honors his memory and those who are awarded with it.