Pi Kappa Phi brings fresh philanthropy to university Greek Life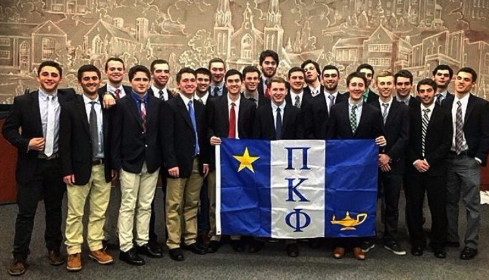 In October of 2015, Villanova University welcomed a ninth fraternity, Pi Kappa Phi, into the Greek Life community. The new fraternity recruited 23 new members this semester for a total of 96 brothers, making it the largest fraternity on campus. Pi Kappa Phi encourages its brothers to embrace leadership roles, put service before self and improve the world around them.
The University chose Pi Kappa Phi out of several fraternities because of its values. Pi Kappa Phi is the only fraternity that owns and operates its own philanthropy, The Ability Experience, which helps people with disabilities. In the Fall 2015 semester, members of Pi Kappa Phi launched the "Spread the Word to End the Word Campaign." They gathered 500 signatures from Villanovans, who pledged to stop using the word "retarded." The organization also sponsors bike marathons that raise money for those living with disabilities. To support this cause, Villanova's chapter of Pi Kappa Phi plans to put stationary bikes in front of the Oreo and man them for 25 hours straight.
According to the chapter's president, junior Peter Winslow, philanthropy events help shape the new fraternity's reputation.
"One of the biggest rewards in running a new fraternity is that we don't really have a reputation other than being the new fraternity," Winslow said. "It's really exciting to see how that reputation is shaped with each event that we do."
Pi Kappa Phi will not take its first pledge class until Spring 2017. Until then, all new recruits will be Founding Fathers. Founding Fathers are members of the chapter that have significant roles in shaping the fraternity.
Freshman Tommy Keane recently accepted a bid to join the Pi Kappa Phi brotherhood. He was attracted to the idea of starting something new.
"During recruitment, the brothers really tried to get to know us," Keane said. "They were looking for guys who weren't just looking to have fun, but also to help the fraternity get better. We have the opportunity to mold the fraternity into what we want it to be."
Pi Kappa Phi will also provide more opportunities for students to become involved in Greek Life.
"The rush process can be very selective," Keane said. "Part of the problem is that there's just not that many fraternities on campus."
As a national organization, Pi Kappa Phi has a history of sparking change. Three men started the fraternity in 1904 at the College of Charleston. Frustrated with fraternities dominating campus politics, they originally named the organization Nu Phi, meaning "Non-Fraternity."
When Pi Kappa Phi first came to campus, the members encountered some challenges. The original 73 members came from different groups and backgrounds. According to Winslow, they have spent a lot of time getting to know each other and working on their brotherhood.
Winslow believes that Pi Kappa Phi will be a positive influence on campus.
"We have a lot of guys who are motivated to make a change and leave their mark on campus," Winslow said. "A lot of guys joined because they saw an opportunity to start something new."
We look forward to seeing the emergence of this new fraternity on campus and wish them all the luck in building a name for themselves amidst the rest of Villanova Greek Life.
Photo courtesy of Instagram.