Coach Talley dedicated to saving lives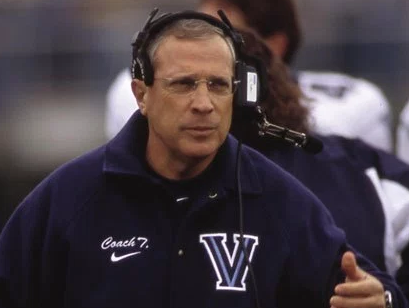 Head coach of the football team, Andy Talley, does more than just coach a Division 1 team. He earnestly works to save lives along the way. In November of 2010, Talley founded his own non-profit organization, "The Andy Talley Bone Marrow Foundation."
       The organization was founded after Talley had become conscious of the saddening odds faced by those in need of bone marrow transplants. Each year, tens of thousands of patients, diagnosed with life-threatening illnesses like leukemia or lymphoma, ultimately need a bone marrow transplant. However, only half of these people actually end up receiving one. The chances of finding a match for bone marrow, are as low as 66 percent for some patients, as 70 percent of patients discover that they have no suitable donor within their own family.
Coach Talley's efforts have really taken off. In the past six years, Talley has conscripted 50 collegiate football teams to participate in his bone marrow registry. To date, 61,000 potential donors have been registered at 50 various colleges and universities across the country.
            On Wednesday April 13 the Villanova Room of the Connelly Center was abuzz as members of our university community, ranging from students, faculty, as well as staff partook in a Bone Marrow Drive. Participants were asked to complete a simple cheek swab screening in which they were required to run long Q-tips along the inside of their cheeks. The event was co-sponsored and hosted by The Andy Talley Bone Marrow Foundation, The Villanova Football Team, the College of Nursing and its Student Nurses Association of Pennsylvania (SNAP) Committee.
            Talley reported, "We registered 637 people last Wednesday. It was one of the best drives we have ever had.  Due to the efforts of the Villanova football team, the SNAP nurses, the Greeks and the student body at large, it is one of our all time best.  The Andy Talley Bone Marrow Foundation runs our GET IN THE GAME AND SAVE A LIFE program along with 60 other college football teams.  By the end of this April we will have registered 10,000 people again this year.  This past season we had three players on our team that donated and saved a life:  CJ Logan, Jake Pruss and Jacob Gribb. We are saving lives with the football program as the source of energy behind encouraging college students to register and stand ready to save a life if called.  I have been doing this since 1992 here at Villanova and through out the country."
            This simple action has the potential to save a life of a patient in need of bone marrow transplant. Villanova Athletics currently boasts four student athletes who have proved to be matches and have gone on to donate their bone marrow to save four different lives.
Photo courtesy of PHILADELPHIA.CBSLOCAL.COM