Pavilion receives a new name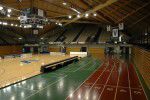 A new name for a new home. The Pavilion will be renamed in honor of William B. Finneran, a 1963 Villanova alumnus. Finneran graciously gave a $22.6 million leadership gift to bolster the Men's Basketball Program and renovate the Pavilion. In appreciation of his dedication and contribution, the University will rename the Pavilion the William B. Finneran Pavilion. Finneran graduated from Villanova University in 1963 with an Economics degree. Since then, he has accumulated countless accomplishments.
Finneran is a Founding Partner of EXOP Capital LLC and the Chairman and Chief Executive Officer of Edison Control Capital. A recipient of the honorary doctorate in Commercial Science from Villanova University, he is now a member of the Carr and Heritage societies, which honor the indelible impacts made by Villanova alumni. Finneran is also a dedicated supporter of the University and its athletics program. He endowed the Men's Basketball head coaching position and was a member on the University's Board of Trustees for 10 years.
"Naming the Pavilion for Bill honors this enthusiasm for—and unwavering dedication to—not only the University's future, but also the future of Villanova's Athletics program," said Rev. Peter M. Donohue, O.S.A. Ph.D. said.
The renovations promise to reflect the reputation of excellence that the
University's Athletics Program has garnered. Although specifics on the renovations are unknown, the improved venue will allow for a more memorable and enhanced fan experience. Fans, ticket holders and the Villanova community were able to give their suggestions and feedback on the plans for renovation. An integral part of the community, the Pavilion has housed long-standing traditions and events.
"He is a man who has had tremendous success in his career but has always been willing to give back to Villanova," said Mark Jackson. "He is a wonderful friend to everyone in the Athletics Department."