Giunco Family match strengthens senior class gift program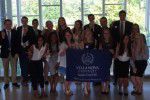 Each year, the students of the graduating class give back to the University through the Senior Class Gift Program.  However, this year, the Giunco Family complements the initiative of generosity.  For every senior who donates any amount to any area of campus, the Giunco Family has pledged to donate an additional 100 dollars.  The senior contribution goal this year is 930 students, a 62 percent participation rate.  Therefore, if this goal were reached, that would translate to a $93,000 match from the alumni's family.
The Giunco Family—John '74 VSB, Janet, and son John Jr. '12 COE—are committed to the University and giving back to ensure its strong future.  Furthermore, this pledge seeks to catalyze current seniors to adopt a philanthropic attitude towards the University as well.  
"Now [as alumni] it is our duty and privilege to support the University however we can—including getting others involved" John Giunco '74 VSB said.  "That is why Janet, John Jr. and I decided to sponsor this year's Senior Class Gift Challenge. Through the Guinco Family Match, we hope that the Class of 2017 will be inspired to give back to this beloved institution and make it even better for the next generation of Villanovans."   
Jeanette Anthony, Assistant Director of Student Philanthropy and Young Alumni Giving, echoed this mentality as she said, "we set participation as our number one goal." The initiative allows each soon-to-be graduate an opportunity to leave his or her mark, a testament to the continuation of the community fostered at 800 East Lancaster Avenue.  The Senior Match Program—bolstered by The Giunco Family's match pledge—fosters a way for departing seniors to both tangibly and positively affect future generations of scholars.