Differing views arise as University prepares for upcoming Charles Murray lecture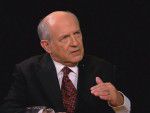 Exactly four weeks after his appearance sparked a violent protest at Middlebury College, Charles Murray, the controversial social scientist, will be speaking on campus on Thursday evening, March 30, at 4:00 p.m. in Garey Hall Room 10A. After his lecture was relocated due to the ferocity of the protest and conducted in private, Murray and a Middlebury College professor were violently attacked by an angry mob while attempting to leave; the professor suffered a concussion and was placed in a neckbrace. Despite this incident, Murray has safely spoken at several schools since: Duke University, New York University and Columbia University.
Murray, who will present a lecture titled "What Does Trumpism Mean for Liberty in the Long Run?," was invited to the University by the Matthew J. Ryan Center, an institution which "promotes inquiry into the principles and processes of free government and seeks to advance understanding of the responsibilities of statesmen and citizens of constitutional democratic societies", to partake in this year's annual lecture series, which highlights "the administrative state and government over-regulation."  The decision to bring Murray back to campus–he had spoken here a little over two years ago–was made in the late fall, months before the Middlebury conflict.
    Murray's planned visit to Villanova has sparked strong debate. Within his large body of work, which includes his 1994 bestseller, "The Bell Curve: Intelligence and Class Structure in American Life," many people have reported themes of possible racism and discrimination. In fact, in 1996 a Villanova sociology professor Peter Knapp Ph.D. co-authored "The Assault on Equality," a book that re-analyzes and questions Murray's findings in "The Bell Curve."  While some members of the community contend that his presence at the University is a contradiction with our core values, others argue that the presentation of opposing beliefs–even if labeled "offensive"–is a hallmark of collegiate liberal arts education because it provides a forum for reasoning and discussion.
    In response to the controversy, the Matthew J. Ryan Center released a statement addressing the accusations against Murray, and why disallowing Murray from speaking at the University would be a much larger threat to our values than his presence at the University.
"The central question at issue presently on our campus is: What do we as a community stand for – are we anti-racist or advancers of racism?" the statement reads. "Isn't it the case, that bringing Charles Murray to campus makes us complicit in his moral turpitude?"
"Our response to these questions is clear:  While the purpose of the university prohibits the stifling of views with which one disagrees, it is also true that the moral obligation of all decent people is to reject racism in toto," the Ryan center continues.
"However, the allegations against Murray are either demonstrably untrue or robustly controverted," the Ryan center states. "Murray is not an "admitted racist and sexist" – he denies the charges, strenuously, and many decent and fair-minded people have maintained that his work has been unjustly anathematized and unfairly maligned."
    Colleen Sheehan Ph.D., the Director of the Ryan Center and a Political Science professor explained why the free exchange of ideas is so important.
    "We [at the Ryan Center] believe that open dialogue is not only central to the mission of the University; it is a fundamental human right," Sheehan said.  "According to the author of the Bill of Rights, James Madison, the first amendment right to freedom of speech is derived from the essential freedom of the human mind and conscience. The freedom of conscience, Madison argued, is not only a natural and civil right, but also a duty to the Creator, the Governor of the Universe."
    The Southern Poverty Law Center is a source frequently quoted by people who find Murray to be a racist, dangerous figure. Its website claims, "[Charles Murray uses] racist pseudoscience and misleading statistics to argue that social inequality is caused by the genetic inferiority of the black and Latino communities, women and the poor."
In response, Murray has released a copy-edited version of the SPLC's report, providing expanded context for quotes and his reasoning behind them.
"For all of those years, I have ignored [the SPLC's material]," Murray wrote. "But in the aftermath of the Middlebury affair and the attendant publicity citing the SPLC's allegations that I am a white nationalist, white supremacist, racist and sexist, people who wonder whether these allegations have any basis need to know what I have to say about them."
"It is this culture of people who are not choosing to read or focus on what [Murray] actually has to say," senior Jay Santoro, a Matthew J. Ryan Center Undergraduate Fellow, said.  "They are defining him by a set of beliefs which they believe he has, without ever reading any of his beliefs."
Many students on campus are beginning to take sides on the value of free speech versus the damage it may cause.  Not only in regard to Murray's views but also the merits and vehicle for free speech.
"I think the most important or compelling reason for why we should host Charles Murray is because it's really a test of freedom of speech when it is being restricted pretty much everywhere else," freshman Timothy Long, a humanities and political science major and Matthew J. Ryan Center Undergraduate Fellow,  stated. "It shows that we are principled and care to hold up that very liberal value, which is essentially the core value of a liberal arts education and our university… By silencing his voice, because you feel his views are offensive, you are actually depriving yourself of an opportunity to share and defend your own opinions."
The English Department sent an email to all English majors that read: "In response to next week's visit by controversial social scientist Charles Murray, the English Department invites you to attend a series of literary events that are designed to encourage robust reflection on racial and gender injustice and their human costs."
Though senior Matt Zarenkiewicz, a senior Global Interdisciplinary Studies and Humanities double major, may not agree with some of the views held by Murray, he explains his reasoning about the scheduled event.
"I think the best way to show my dissent is in the question and answer section," Zarenkiewicz said. "I think there are better ways to protest these people than something that happened at Middlebury, or something like avoiding the event. We have to imagine better ideas [and become] more imaginative about what protest actually means, in order to think about how to resist these people and their ideas."
The University believes that these types of events are important to the academic experience, according to Craig M. Wheeland, PhD, Vice Provost for Academics.
    "Our norms of academic freedom and intellectual discourse and being willing to debate one another and disagree with one another in a way that is respectful and civil, is important to Villanova as it is to many other universities," Wheeland said. "Controversial events are permitted to happen. People are permitted to express their differences with the speaker, and I think that's important for the way we engage intellectually at the University.
With all of that being said, Murray's visit to campus will test the three elements that guide a Villanovan education: veritas, unitas and caritas.