Golf takes fourth at Coca Cola Collegiate Invitational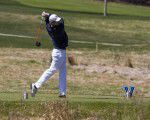 Villanova used a strong second day performance to vault up the leaderboard into a fourth place finish at this year's Coca Cola Collegiate Invitational hosted by Lafayette University, less than a week after an identical result in the Wildcat Invitational.
"We put ourselves out of position to make a title run," junior captain Will Byrne said after a lackluster first day of play.
The 'Cats bounced back with a strong performance in the tournament's final round to jump from tying for eighth into a fourth-place finish. The team's resurgent play even had them in second place halfway through the final round. 
Following a week filled with plenty of rain, conditions were certainly not ideal at Silver Creek Country Club in Hellertown, Pa. as the course had to deal with several inches of precipitation.
Byrne conceded that "the course was wet and the greens were a problem," but also stressed that everyone else was playing the same course too.
"We knew if we played Villanova Golf and didn't let the conditions get to us, we already beat half the field," Byrne said.
It was their number-one player and senior captain, Lucas Trim who led the Wildcats in this event. Trim, who fired an even par round of 72 on the tournament's opening day, followed that up with a one under 71 to finish in a three-way tie for first individually.
Trim finished tied for medalist honors with Eric Dietrich of UConn and Anton Frondelius of Wagner with a two-day score of 143 (-1). Trim credits much of his success this week to his mindset and approach.
"After playing well at the Wildcat [Invitational], I knew that my game was in a good spot to play well and possibly contend at Silver Creek, so having almost an inner sense that I knew where I was with my game, personally, helped pull me through," Trim said.
Additionally, the senior captain mentioned the importance of hitting quality iron shots to position oneself below the pin on Silver Creek's severe greens.
"Having the discipline to aim away from pins and actually hitting it there was a significant key to my success," Trim said.
 In addition to Trim, junior Andy Butler played resilient golf, posting a second round 72 to improve upon his first round 78. Freshman Connor Daly, 76-79, sophomore Andrew Bowyer, 81-84 and the aforementioned Byrne, 81-76, rounded out the team scoring for the 'Cats.
The team finished with a two-day total of 605 (+29). Playing as an individual, junior Andrew MacMillan also competed in the event, shooting excellent rounds of 74-75 to come in a tie for 11 in the field.
UConn took home the team title with an outstanding team score of -1 in the final round to post a cumulative score of 582 (+6) and winning by 14 shots.
Drexel and Bryant tied for second with totals of 596 (+20) and were the only other schools to finish in front of Villanova in the 19-team field. 
The Wildcats will look to use their comeback during Monday's final round as a stepping stone towards a strong finish to the season.
"We really flashed the potential that we know we have and are going to need to contend at the BIG EAST Championship later in the month and that's very exciting," Trim said. "If we can pull from that potential more often, then we can really have a memorable rest of the season."
With the conference tournament fast approaching, the next chance for the team to showcase their ability will come next Monday, April 10, when they are scheduled to partake in the Finegan Invitational in Lafayette Hill.