Adela Dwyer — St. Thomas of Villanova Peace Award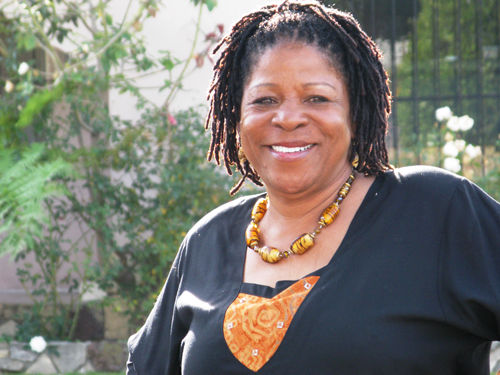 Susan Burton has been dubbed the reincarnate Harriet Tubman. In east Los Angeles, Burton has created her own underground railroad of sorts. From her own experience of over 20 years in and out of the criminal justice system, Burton has paved the way for a more successful transition from prison back to the real world for women. In her new biography, "Becoming Ms. Burton: From Prison to Recovery to Leading the Fight for Incarcerated Women," Burton writes not only about her life- starting from her own incarceration– but also about the lives of women that she impacts every single day. Burton spoke at the University on Oct. 19 to receive the Adela Dwyer-St. Thomas of Villanova Peace Award.
Burton runs five different homes in the east Los Angeles community, which help to provide jobs, food, legal counseling and aid and parent-child unification help for women who have recently been released from prison. However, Burton's road to her current success was filled with her own obstacles and seemingly never ending challenges. During her speech at the University, Burton only alluded to her personal troubles starting with the death of her five-year-old son when he ran into the street and was killed by an off-duty police officer. Burton experienced severe depression and grief, consequently leading to a reliance on drugs and alcohol. She quickly became addicted and was soon arrested for a non-violent crime. The next 20 years of her life she refers to as a "revolving door" of incarceration— in and out of prison, the guards even told her that they would "see her soon" after she was released for the final time. It was 1997, she was 46 and had nowhere to go.
On October 4, 1997, Burton found a facility in Santa Monica which provided her with the services and support she needed, she started to "address the demons of [her] past." During this period of regaining mental health, Burton started to realize that not all people, especially women, were being incarcerated for the same things that the women she knew in east Los Angeles were being arrested for. In lieu of jailtime, women were granted court cards, community service hours or rehabilitation stints— Burton recognized what she now calls the "economics of race and culture in America." After living in Santa Monica for a year and maintaining a steady job, Burton returned back to east Los Angeles and tried to replicate what she had found in Santa Monica. 
Burton bought a house with the money she had saved up for the past year, and her "underground railroad" began. Burton began meeting women she knew were being released from prison at the east Los Angeles bus stop, she would offer them the to chance to live with her and regain control of their lives after incarceration. Within just six months, Burton had cultivated a "robust community of women helping each other," soon awareness, commitment and organization grew. The first house turned into another one, then another one, and Burton soon created a legal department service. Burton now is in charge of five homes and has teamed up with the UCLA School of Law to break the cycle of institutionalized reasons for incarceration. In 2010, Burton was named a CNN Top 10 Hero of the Year, and in 2015 the Los Angeles Times named her one of the top eighteen civil rights leaders. Burton calls her organization "A New Way of Life, Re-Entry Project" and has also created two other civil rights groups called "All of Us or None" and "Formerly Incarcerated Convicted People Movement."
Burton concluded her speech at the University by stating that she "could not take back the years [she] spent traveling in and out of the criminal justice system" but she "could help another woman." Burton has touched the lives of so many women who have come to her— she no longer waits at the bus stop, inmates write to her and pray that they will be able to enter her life-changing homes. She believes that if the mainstream route isn't working, you should create your own. Her advice to the audience evoked inspiration and awe. Burton believes that every individual has the power to create change and make the most of the opportunities that everyone is given in life. 
One question asked by an audience member proposed that Burton was violating possibly her own or other women's parole through her actions. Her response stirred an eruption of laughter in the audience. Burton admitted that there may have been flaws in her system in the beginning but "the bigger problem was that these women did not have support". Burton even challenged the parole department to try to stop what she was doing. She said, "I got mad. And don't make a woman mad, right?"