Alpha Chi Omega promotes domestic violence awareness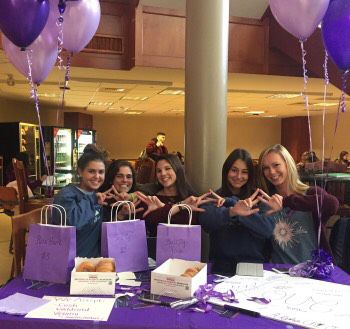 October is recognized as domestic violence awareness month and organizations, such as the sisters of Alpha Chi Omega, have decided to participate in the promotion and recognition of this prevalent issue. Domestic violence is defined as "a pattern of behavior which involves the abuse by one partner against another in an intimate relationship such as marriage, cohabitation, dating or within the family,"and the University's Zeta Tau charter of Alpha Chi Omega has adopted this issue as the focal point of their national philanthropy. Last year, the sorority was able to raise over $7,000 for the Alpha Chi Omega Foundation to help address the issue of Domestic Violence. Their domestic violence awareness week, which started on Oct. 24 and ended Oct. 27, is one of the integral parts of their philanthropic efforts. 
"This week is the most important time of the year for [Alpha Chi Omega]," said Philanthropy Chairperson Emily Fiorelli. Fiorelli is responsible for planning and leading events such as these for the organization and is humbled by her role. She highlights that domestic violence awareness week is one of the most rewarding events for her "because it opens the door for conversation on this topic and includes the greater Villanova community in Alpha Chi Omega's mission." She continues to emphasize that "the more people are aware of this issue, the more we can help victims get back on their feet." 
This goal is accomplished throughout the week via specific events aimed at engaging the community and sharing productive conversation. "Many people, especially students at Villanova, do not understand just how prevalent domestic violence is," Fiorelli said. "The age group in which the most violence occurs is 18 to 24, affecting one in four college women. This week not only raises money to help victims, but brings the education to campus in an approachable way." Alpha Chi Omega has had a significant presence in the University's main campus and has been distributing purple ribbons in an effort to unite the community.
In addition to the on campus efforts, Alpha Chi Omega has also been able to make an impact outside of the immediate University area. Specifically, Fiorelli discusses an established relationship with The Laurel House, a woman's shelter located in Montgomery County, Pennsylvania. This comprehensive domestic violence agency works towards "ending domestic violence in each life, home and community," according to Beth Sturman, Director of The Laurel House. According to their official website, the agency's name was selected because of the particular beauty of Pennsylvania's state flower, the laurel. "It represents a victory for people who have taken the courageous first step of reaching out to Laurel House in their efforts to build a violence-free life for themselves and their children." This goal is accomplished through two primary courses of action. First, their mission is to "advocate for and empower those impacted by domestic violence by providing crisis intervention, safe haven, supportive programs and resources." Second, The Laurel House works to "advance social change through preventative education and through community training and collaboration to foster a coordinated response to domestic abuse." Fiorelli, as well as many other members of Alpha Chi Omega, feel humbled by the ability to contribute to The Laurel House's admirable vision. Much of the fundraising efforts during Alpha Chi Omega's domestic violence awareness week goes directly towards buying food, sanitary supplies, baby supplies, education and more necessary resources for The Laurel Houses's effort to help those affected by domestic violence. 
Fiorelli offered her own vision for the fundamental purpose of Alpha Chi Omega's venture to promote awareness of domestic violence which has become a personal passion for her. "The most important part of this week is having the conversation that we as a community rarely have. This is real, this is happening now and if we work hard enough, we can find a solution," Fiorelli said. She continued to say that her goal for the week is to "get a significant amount of attention to the cause, so we can not only raise money, but also talk to students and faculty about this issue," Fiorelli said. 
As Alpha Chi Omega's domestic violence awareness week comes to a close, they hope that their efforts inspire the community to take collective action to understand and learn about domestic violence and furthermore, recognize opportunities to make a difference.