Villanova Offense Wilts in Loss to Providence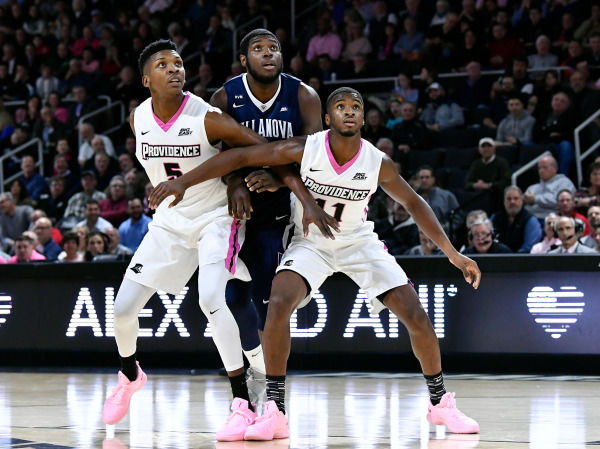 The Villanova Wildcats fell to the Providence Friars Wednesday night by a score of 76-71 at the Dunkin' Donuts Center in Rhode Island.
Plagued by 19 turnovers and a woeful 15% three-point field goal percentage, the Wildcats trailed virtually wire and wire in what many will view as a classic "looking ahead" loss, with a matchup against conference leader Xavier looming on Saturday.
As has become a pattern for Villanova's opponents in recent games, the Friars came out firing. The team made their first three field goals of the game to jump out to a 7-0 lead. Paced early on by sophomore Alpha Diallo, Providence continued to front run, leading 15-10 at the under 12 timeout in the first half.
Fouls became a bit of a problem for the Wildcats when both Eric Paschall and Donte DiVincenzo were forced to the bench with two fouls before the eight-minute mark. However, Providence was not able to take advantage, as the middle portion of the first half saw them go seven minutes without a field goal. As Providence struggled to score, the 'Cats took their first lead of the game, 18-17, on a dunk from Omari Spellman. However, it was then the Wildcats turn to go cold, as they failed to convert on a field goal attempt during the half's final 5:12 in route to a season low 23 points in the half. At the intermission, Villanova was 0-7 from three-point range and trailed 27-23.
In the second half, Villanova remained largely out of sorts on offense. The team's star point guard, Jalen Brunson, played nothing like his usual sure-handed self, turning the ball over an alarming seven times.
For Providence, senior point-guard Kyron Cartwright was the difference maker in the second half, racking up two early three pointers for six of his team high 17.
After the Friars took their largest lead of the game, 49-39, with 11:28 to go, Villanova went on a quick 8-0 run to cut the deficit to two. Providence had the answer however, with senior Rodney Bullock scoring the game's next five points to push the lead back to seven.
As the Wildcats were attempting one last push, both Brunson and Mikal Bridges, who led all players with 19 points, fouled out of the game. With his two stars on the bench, head coach Jay Wright was forced to turn to freshman Collin Gillespie and Jermaine Samuels in the game's waning moments.
While Gillespie made a valiant effort at bringing the 'Cats back by scoring five late points, it would not be enough as Providence closed the door for the victory.
With the loss, Villanova falls to 23-3 overall and 10-3 in the Big East. Next up is a crucial road matchup against Xavier at 4:30 on Saturday.