Shorthanded Wildcats Come up Short in Road Battle with DePaul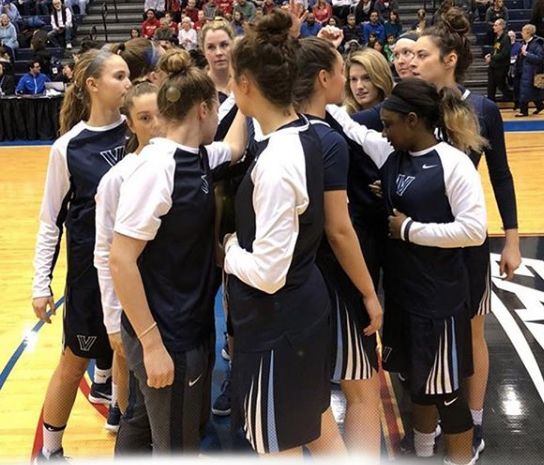 On Sunday, No. 24 DePaul defeated Villanova 71-66 in a hard fought game.
The Wildcats entered Sunday's matchup against DePaul looking to rebound from a tough road loss at Marquette. Securing a win would be no easy feat, especially without the services of star point guard Adrianna Hahn, who was a late scratch due to an IT band injury. Adding to the difficulty, the Blue Demon players and fans entered McGrath-Phillips Arena a little more emotionally charged than usual as they celebrated Senior Day. In a game defined by runs, the Wildcats battled through adversity and put together an admirable team performance. Unfortunately, Villanova came up short, losing by the final score of 71-66.
Villanova jumped out to a quick 10-0 lead, which prompted DePaul head coach Doug Bruno to burn an early timeout. Coming out of the timeout, the Blue Demons found their rhythm and quickly rattled off 16 unanswered points to take the lead. Adrianna Hahn's absence operating the offense was clearly felt during this run, as the Wildcats uncharacteristically turned the ball over six times and trailed 18-12 at the end of the first.
As the second quarter got underway, the Wildcats returned to their early first quarter fashion. Standout sophomore Kelly Jekot reignited the offense as she scored six of her team high 17 points on back to back three-pointers. Fellow sophomore Mary Gedaka added two more quick baskets to extend the run to 10-0. While a DePaul three finally ended the run, junior Jannah Tucker immediately answered on the other end. Fittingly, the back and forth first half ended tied up in a 37-37 deadlock.
Villanova's offense sans Hahn continued to impress in the early goings of the third. Tucker's hot shooting from the second continued as she hit a jumper and three-pointer in back to back possessions, giving Villanova the lead. The Wildcats ball distribution also was clicking, as Bridget Herlihy dropped a dime to a cutting Gedaka to extend the lead. However, an and-one from DePaul senior Lauren Prochaska midway through the quarter began to swing the momentum back in favor of the Blue Demons. The Nova lead was cut to 53-51 at the end of the third.
 Ultimately, DePaul would emerge from a tightly contested fourth quarter with the victory. The Wildcats offense went cold in the final quarter, connecting on only one field goal over the final nine minutes of game time. While their execution was sound, Villanova had trouble finishing the opportunities they created close to the rim.
The Wildcats will wrap up regular season play this upcoming weekend with a two game home slate, beginning with a Saturday night matchup against Providence. Tip-off is scheduled for 7pm.