Athlete of the Week: Erika Miller, Field Hockey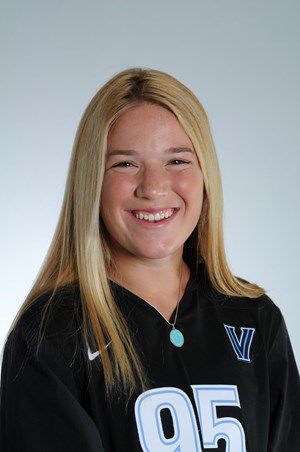 Most elite athletes have an alter ego once they gear up and step on the field. Focus, drive and instinct all take over when the clock starts running. 
Senior captain and goalkeeper Erika Miller is no exception, admitting that she transforms into an intense and almost unrecognizable athlete during her games. 
The best word to describe her demeanor in day-to-day life is 'chill' and she was laughing as she admitted, "it's funny, because every time I get off the field parents are like 'Whoa, you were the one that was in goal?' And I'll be like, 'Yeah, that was me!' I'm a little different off the field."
Surprisingly, her love for field hockey was not at first sight, but was cultivated over time. It did not manifest itself at a young age, instead growing on her later in her youth. Miller saw herself as a basketball player until high school, and even then she was not sure she would stick with field hockey not until she stepped into her role as her high school's goalkeeper her sophomore year. 
After earning her place there, Miller invested more of herself and her time to the sport. But when her circumstances changed, first when playing in a club league and later in front of the collegiate coaches recruiting her, something that never waivered in Miller was her elite competitiveness and hunger to improve, she was inspired by her love for sports and her admiration of the true greats. 
"I think I'm just a sports fan in general, so I think my sports role model would probably be Michael Jordan, just hard work, ethic, always a competitor," she said. "So, that's just kind of somebody I try to emulate in practice, in games and stuff like that."
Outside of her passion for sports, Erika is an Economics major, as well as a third generation Villanovan, one who even grew up right on the Main Line, in Malvern. She was named to the Big East Weekly Honor roll last week, becoming the first player to receive this honor this year. This was her seventh time receiving this honor, proving that being an athlete and an academic is more than possible. 
"It's definitely a big honor, I feel honestly really thankful that my hard work is recognized with how many talented girls are in the conference, my team specifically too," Miller commented on receiving the award. 
Miller is much more than just an athlete and a student. She's also a leader, responsible for continually filling that role, not just when she's geared up. She's more than willing to fill that role and serve as a role model for her teammates explaining, "I guess just leading by example every day on and off the field," Miller said. "I think it's really important that the girls come and they're focused and they want to play each day."
As a leader, one of her biggest focuses this season has been working with Villanova's other goalkeeper and her likely successor between the pipes, freshman Jordan McGinley. Arriving to a new school is challenging, and having to juggle that on top of preparing to step into a starting role is something Miller empathizes with and is prepared to make easier. 
"I'm in a unique role in that we also have a freshman goalie," she said on the opportunity to work with McGinley. "In my training, not only am I trying to improve myself for this last year but prepare this next girl for when she's going to have to step up in the next season to step in and take over the job in goal." 
Miller has also formed a life-long relationship with coach Joanie Milhous. She has known Milhous since she was a sophomore in high school and said that what Milhous has given her is "something not a lot of girls get out of college coaches. She's kind of like the motherly figure for us. She's a great person. She's been there on and off the field." 
Like any senior student-athlete, the thought of leaving her team at this season's end is "crazy" for Miller. The time between move-in day and graduation certainly flies, something she admitted she had experienced herself. 
However, she intends to go out with a bang, expressing her high hopes for this team in particular.
"I think it's a really great group of girls and it's also something that as a senior you're able to recognize when a group is really special in comparison," Miller stated, citing the perspective that comes along with this last season. 
After making the Big East tournament Miller's freshman year, the Wildcats have not returned since, and naturally Miller hopes to end that unlucky streak this year before she graduates."I think it's cool to see this upward trajectory, almost, of the program and we're at a really exciting time. I think where we have a really great shot of making it," she said. "It's cool to see a whole team together. We're really reaching for this goal."