Professor Feature: Dr. Adrienne Perry of the English Department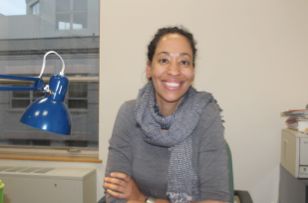 The beginning of Dr. Adrienne Perry's career in writing ironically sounds like the beginning of a novel. The professor, who teaches Intro to Creative Non-Fiction, Publishing and Editing and the Writing of a Short Story, moved to Paris immediately after high school, with a friend, to work as an au pair. Soon, the two friends found themselves quitting their jobs and traveling around Europe, giving each other prompts and writing all day. Dr. Perry describes this as a pivotal time in her life. "It was really the first time that I felt like I was a writer or wanted to be a writer," Perry said. After graduating from Hampshire College, Perry didn't consider creative writing or teaching as a profession until years later, while taking a writing class at Smith College. While working as a college counselor in New Jersey, Perry loved writing narratives and crafting recommendation letters, which she viewed as personal stories. Around this time she decided to go back to graduate school and give teaching a try. 
At Villanova, Perry crafts her courses with the experience of the student in mind. Perry views herself "as a learner as much as a teacher," and creates an environment where everyone can share their voice, but also listen. Prior to Villanova, Perry worked for Writers in the Schools, a literary arts program provided to students in inner city schools. Perry says the teachers she met there inspired her greatly. Perry says one of the lessons she learned in this program is that "you can't get set back from one thing not going right." She also cites J. Kastely, a professor at the University of Houston, as an influence, as well as the poet Robin Coste Lewis, a teacher of Perry's at Hampshire College. 
"[They're] passionate," Perry said.  "They are rigorous intellectuals at the same time that they're funny and they're soulful. They care about reading and they care about writing like their lives depended on it." Perry also finds inspiration in her family, thinking about how she would teach her class to her grandmother, who was a hair-cutter in California. She wonders how she would teach her class so her grandmother would feel included. 
It's surprising that Dr. Perry didn't initially consider teaching, as she's such a natural. She's both funny and warm. Her classes are mangable and are an environment where everyone is encouraged to speak and comfortable doing so. For anyone looking to take a creative writing course at Villanova, Dr. Perry's courses are a great place to start.