John Hennessy '73 Shares Wisdom from His 50-Year Journey from Villanova to Stanford to Silicon Valley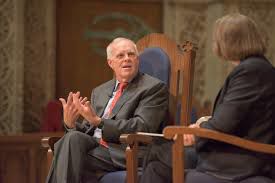 Grace Kennard Staff Writer
December 3, 2019
On Thursday Nov. 21, Villanova University alumnus John Hennessy '73 returned to campus to discuss his book "Leading Matters: Lessons from My Journey." Hennessy received his B.S. in Electrical Engineering before pursuing his master's degree and Ph.D. in computer science from Stony Brook University. He is the cofounder of the largest fully endowed scholarship program in the world, the Knight Hennessy Scholars program. Hennessy served as the 10th president of Stanford University from 2000-2016 and is the current Chairman of Alphabet, Inc., Google's parent company.
The evening began at 4:30 p.m. with a conversation focusing on freshmen engineering students, before the main presentation at 7 p.m. in the Villanova Room with all alumni, faculty, staff and students and ended with a networking reception. Patrick G. Maggitti, University Provost, welcomed Hennessy back to campus by praising his book and detailing Hennessy's many accomplishments. Hennessy is the recipient of several esteemed awards and recognitions including the 2017 Turing Award for his work with the reduced instruction set computer (RISC) architecture that is used in 99% of new computer chips today.
Hennessy embarked on the retelling of his 50-year journey by starting with his undergraduate years at the University. He commented on the quality of the liberal arts education he received during his years as a Villanova student and specifically highlighted two events that transformed him. The first was an opportunity he took advantage of to help other students learn programming. 
"That instilled a love to learn with others which is really what teaching is all about," he said. 
Hennessy remarked as he looked back on this memory. The second transformative event while at the University was his undergraduate research. The lesson he learned from his time conducting research as a student was to always find your passion, as this helped him find his own.
The journey continued from Villanova to his years as a graduate student at Stony Brook, where he lived with his high school sweetheart and current wife. Hennessy spoke about his perseverance when he recounted that he rode his bike six miles every day from their small studio apartment to get to class. Their grocery budget for each week was $20. They had no money but worked hard together.
Hennessy continued by discussing his move to Silicon Valley to work on the Stanford MIPS Project and his experience with his own start-up company. 
"What I didn't know about business could have filled a book," he said with a smile, while detailing the difficulties he and his colleagues encountered during this period. 
Their company went public not once, but twice, which he noted is highly unusual. Hennessy spent a majority of his time during these years conducting cold calls and traveling long hours and distances. 
"I have a tremendous respect for good salesmen," he said. 
This is a result of his experiences on the road and on the phone.
Hennessy's life took him back to the classroom, because he recognized that he missed working with students. His leadership at Stanford University gradually grew as he went from the Head of the Computer System Laboratory, to the Chair of the Department of Computer Science, to the Dean of the School of Engineering, to Provost and, finally, President of the University. Hennessy led with humility and awareness. 
"One of the real dangers when you're a leader is to get out of touch with the people who really do the work," he said. 
In order to avoid this, Hennessy made a point to have lunch with every single faculty member and visit the freshmen dorms to meet with students while he was the Dean of the College of Engineering. 
"Leadership is about service," he said. 
When he accepted the position of President of Stanford University, Hennessy decided financial aid needed to be improved and that there needed to be different people working together throughout campus. The financial crisis of 2008 struck and he was faced with a difficult decision: fire employees or cut financial aid. 
"Students come first," Hennessy said as he prefaced his method of solving this issue. Instead of immediately laying off faculty and staff or cutting financial aid, Hennessy asked the Deans and Vice Presidents of the Colleges to take salary cuts to help mitigate the impact on students and employees. This was a move that undoubtedly helped many students, faculty and staff members during this time of need.
The discussion ended with students from the audience posing questions to Hennessy. Many asked about his time in Silicon Valley and for advice and what issues he thought needed to be solved. Hennessy remained poised and responded eloquently each time until he parted with an inspiring claim. 
"The way to get people to do extraordinary things is to inspire people to do extraordinary things," he said. "How do you want to spend your life? Life is short. We only have a finite number of days here. What do you want your legacy to be?"