NASSA Earns First Place in National Dance Competition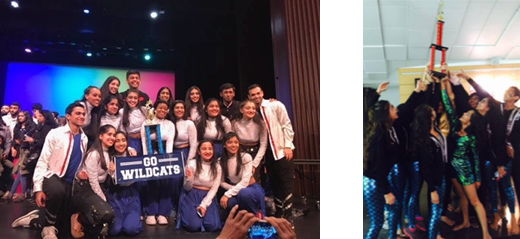 Tucked behind the Blue Ridge Mountains, many miles from their dorms, a talented group of Villanova students was about to hit the stage and dance their way to victory. These 18 students were none other than the members of Nova NASSA, Villanova's first and only South-Asian Fusion Dance team. Together, these individuals journeyed across the country to perform at the Blacksburg Ki Badmaashi. In front of an audience of watchful judges, fellow students and opposing teams, the performers ultimately returned home from the small Virginian town as champions.
Hosted in Virginia Tech's Burruss Hall, the Blacksburg Ki Badmaashi (BKB) is an intercollegiate dance competition that focuses on Bhangra, Fusion and Raas. At the competition, twelve teams compete to win the first-place prize in front of judges who are well-experienced in competition. The event featured teams from institutions like the University of Michigan, UC Berkeley, Texas A&M, Maryland and Columbia. 
All proceeds generated by the event were donated to Pratham, an organization that works to ensure education for impoverished children in India.
NASSA competed in the "Fusion" category alongside three other teams, including Texas A&M's Akh Mastani, who placed second. While the "Bhangra" and "Raas" categories involve traditional Indian folk dancing and music, "Fusion" combines a variety of styles in a single mix. "Fusion" teams combine elements of classical Indian, Bollywood and hip-hop music and dance. Blending these styles of dance, performers demonstrate unique cross-cultural creativity and break the boundaries of tradition. Team members attend intense practices to prepare and perfect their craft for its ultimate showcase in events across the country.
Nova NASSA, pronounced "Nuss-ah," performs and competes at many on- and off-campus events. At Villanova, these events have included the South Asian Multicultural Organized Students Association's (SAMOSA) annual multicultural showcase and VU Superlative's all-styles dance showcase. However, NASSA also competes across the country in locations including Philadelphia, Cleveland, Detroit, Pittsburgh and New York City. The award-winning team has continued to place highly each successive year with breathtaking performances.
Currently, Nova NASSA has performers from every class year at Villanova, including a strong new-member presence. The team, whose tryouts do not require any dance experience, looks for committed individuals with a passion for and interest in dance. NASSA will next perform on campus at TEDxVillanovaU, Villanova's independently organized TED event taking place on Wednesday, Feb. 19. 
This weekend, the team will journey to the Naach di Cleveland competition in Ohio on Saturday, Feb. 22, hoping to replicate its success from Blacksburg Ki Badmaashi.