Commercial Sexual Exploit Institute Director Shea Rhodes Receives Fulbright Scholar Grant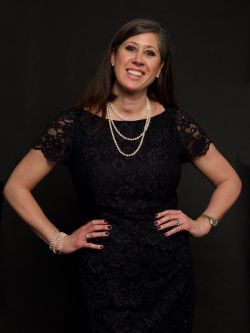 Shea Rhodes, founder and current Director of the Institute to Address Commercial Sexual Exploitation at Charles Widger School of Law and CWSL class of '97 graduate, recently received a 2020-2021 U.S. Fulbright Scholar grant for the Fulbright-Schuman European Union Affairs Program.
The Fulbright Scholar Program grants about 470 teaching and/or research awards in more than 125 countries. The specific program Rhodes was chosen for, the Fulbright-Schuman European Union Affairs Program issued by the U.S. Department of State and the J. William Fulbright Foreign Scholarship Board, provides scholarships for U.S. citizens to research within the European Union, with a focus on E.U. affairs or policy, or the U.S.-E.U. transatlantic agenda.
Recipients of the Fulbright Scholar Program are chosen based on academic and professional achievement, service and leadership in their fields.
Mark C. Alexander, Charles Widger School of Law professor and the Arthur J. Kania Dean of the School, offered high praise for Rhodes and expressed his confidence that she would represent Villanova Law well.
"Shea is an outstanding member of our Villanova Law community who is doing impactful and wide-reaching work with the CSE Institute to combat commercial sexual exploitation," Alexander said. "She is so deserving of this Fulbright Award, as she is a passionate advocate for those affected by exploitation, and is a leader in creating policies and educating those on the frontlines."
Rhodes will begin to conduct her six months of research in Austria and Sweden in the fall. Her research, titled, "Discouraging the Demand that Drives the Exploitation of Persons that Leads to Human Sex Trafficking and Commercial Sexual Exploitation," is focused on determining whether Austria and Sweden have successfully implemented a directive from the United Nations' Palermo Protocol to Prevent, Suppress and Punish Trafficking in Persons Especially Women and Children.
Rhodes plans to engage in policy-oriented research on human trafficking in Europe with the Organization for Security and Cooperation in Vienna and the Ministry of Foreign Affairs in Stockholm. She also plans to engage with those who work with victims of CSE through workshops and seminars to discuss trauma-informed approaches to work working with survivors.
"Prostitution is gender-based violence that is driven by the demand for commercial sex," Rhodes said. "Austria and Sweden have divergent laws and policies regarding the commercial sex trade. After spending three months in each country, I hope to do a comparison of the two countries and the different ways they fight the supply and demand of the sex trade that is driving and fostering exploitation. These findings will then be used in the United States to inform our ever-changing legislation and policy reforms."