President Donald Trump Returns to the White House After Testing Positive for COVID-19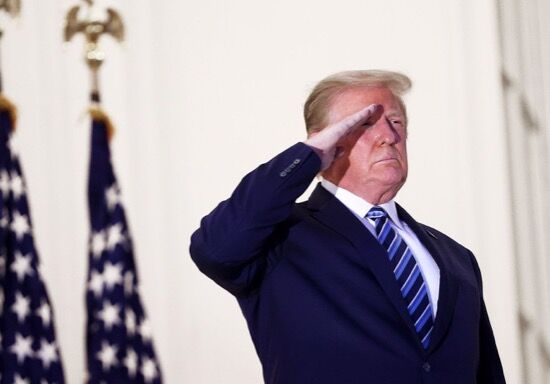 Early Friday morning, President Donald Trump announced that he tested positive for the coronavirus.
On the evening of Thursday, Oct. 1, Trump tweeted that he and First Lady Melania Trump would begin the "quarantine process," as they awaited test results following news that senior advisor Hope Hicks tested positive for COVID-19. At 12:54 a.m. on Friday morning, Trump announced his test results.
"Tonight, @FLOTUS and I tested positive for COVID-19," Trump tweeted. "We will begin our quarantine and recovery process immediately. We will get through this TOGETHER!"
For months, Trump has been criticized for ignoring CDC guidelines, holding in-person rallies and downplaying the seriousness of wearing a mask, even ridiculing former Vice President and Democratic presidential candidate Joe Biden for wearing a mask at the debate on Tuesday evening. Trump also told an audience that "the end of the pandemic is in sight," at a dinner on Thursday night, hours before testing positive for COVID-19.
On Friday at 11:31 p.m. Trump tweeted a positive message that he was doing well. "Going well, I think! Thank you to all. LOVE!!!" Trump tweeted.
According to CNN, Trump had a high fever and difficulty breathing on Friday and was given supplemental oxygen at the White House. Then on Friday evening, Trump was transported to Walter Reed Medical Center where he started his first dose of a five-day treatment of remdesivir therapy. On Saturday, Trump received his first dose of the steroid dexamethasone. 
According to NPR, Trump's physician Dr. Sean P. Conley said on Monday that Trump had not been on any fever reducing medications for more than 72 hours and that his breathing is normal, but that he is "not out of the woods yet." 
Also, Dr. Brian Garibaldi said that Trump would receive the fifth and final dose of remdesivir at the White House on Tuesday night.
On Monday evening, Trump returned to the White House, where he was seen removing his mask to salute Marine One before entering the White House. Trump then posted a video on Twitter at around 8 p.m., explaining that he was feeling well.
"I know there's a risk, there's a danger but that's okay," Trump said in the video. "And now I'm better, and maybe I'm immune? I don't know, but don't let it dominate your lives, get out there, be careful. We have the best medicines in the world." 
Trump may be optimistic about his progress, but as the President of the United States, he has received aggressive medical care that many Americans do not have access to. 
Others in the White House have also tested positive for the coronavirus, with the most recent case being press secretary Kayleigh McEnany who tested positive Monday morning.
"Combined with the positive tests of two of McEnany's deputies, that brings the number of Trump insiders to have contracted coronavirus to more than a dozen, including his wife, senior adviser, personal assistant, campaign manager, two debate prep advisers, party chairwoman and three Republican senators," CNN said.
Vice President Mike Pence has continued to test negative since Friday, and he is still set to debate against vice presidential nominee Senator Kamala Harris on Wednesday night. Biden, who debated across the stage from Trump last Tuesday evening, has also announced that he has tested negative and is continuing to campaign. The Trump campaign announced on Tuesday morning that Trump plans to attend and participate in the next presidential debate on Oct. 15th in Miami. Biden has yet to respond.
The coronavirus has infected over 7 million Americans and has killed over 210,000. Also, according to the New York Times, the number of new cases per day has risen by more than 25 percent since mid-September.