Freshmen Elect SGA Senators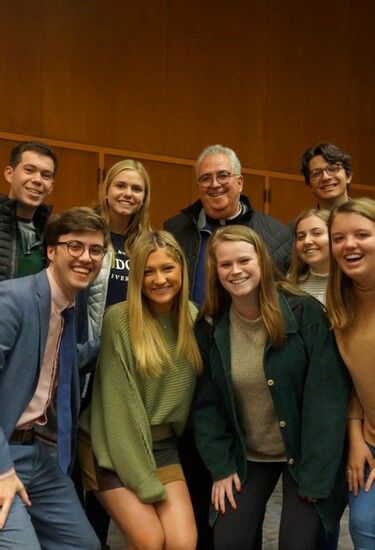 Sophia Pedro Staff Writer
October 7, 2020
The six Student Government Association (SGA) senators that will represent the Class of 2024 are Lauren Amoo, Tom Dessoye, Andrew Kline, Preston Munoz, Tee Parris and Elizabeth Vaughn. 
As one can imagine, the race for this year's freshmen SGA senators was very competitive, as there were 18 candidates. The University has not had that many freshmen run for a senator position in several years. 
After the results came out on Saturday, Oct. 3, the new representatives provided some insight into what they are most excited for now that they are a part of SGA, as well as what they want to accomplish early on as representatives for the Class of 2024 and the University.
Lauren Amoo is excited about the diverse group of senators representing her class and said, "This will allow us to get different perspectives from a diverse array of students and greatly increase our ability to affect change for all." 
One of Amoo's concerns is sustainability on campus. She hopes to accomplish "changing the Styrofoam containers in the dining halls to a more eco-friendly alternative."
Tom Dessoye is devoted to staying on campus and concerned with the mental and physical health of students. He is excited to "to pass legislation to enhance the safety of our campus." A few of his goals are to implement "a mask cleaning station using UV lights" and a  "Check-Up from the Neck-up," which would have kiosks around campus to briefly screen the mental health of students and faculty. 
Similar to his fellow senators, Andrew Kline is excited about "being a part of such a diverse group of elected senators that isn't afraid to make their voice heard," as well as being able to further the mission of diversity, equity and inclusion on campus. In the first weeks of his candidacy, Kline hopes to "open lines of communication with the student body." Both communication and representing the vision of his class is important to him. Kline hopes to do this by "scheduling zoom meetings, answering text messages [and] responding to emails."
Preston Munoz is "so excited to be a voice in SGA for freshmen, especially for minority students, giving them the voice they deserve." Like his fellow senators, Munoz is passionate about and concerned with mental health and sustainability on campus, focusing on current available resources and how the University can improve in these two areas. 
Tee Parris "is thrilled to see so much diversity in the senate and to add varying narratives to SGA." In her new position, Parris hopes to tackle different initiatives, but at the forefront is "a qualitative diversity tracking system that documents not just the number of minority students and faculty on campus, but also their experiences." She is excited to embark on this journey with her fellow senators, as well as her University and Class of 2024 peers.   
Finally, Elizabeth Vaughn is honored to be representing her class and is most excited "to help our community grow closer and the opportunity to immerse [herself] into SGA and build upon the strong sense of community that Villanova has." Potentially for next semester, Vaughn plans "to advocate for early syllabi access to allow students to view past syllabi before signing up for a class."