McCusker: Lester Holt Addresses Graduating Class of 2023
Lester Holt is the award-winning anchor of NBC Nightly News who was recently named America's most trusted television news personality. My Boston roots allow me to see Holt as the Tom Brady of journalism, so, when I was offered the chance to interview him ahead of his Commencement address to Villanova's graduating class of 2023, I jumped at the opportunity. 
As an aspiring journalist, I went into the interview expecting Holt to give me all the answers, to explain how to be the best journalist ever. I thought he would say, 'you must ask these kinds of questions to discover the facts,' or 'for the audience to trust you, you must present the news in a smooth low rumbling voice like mine.'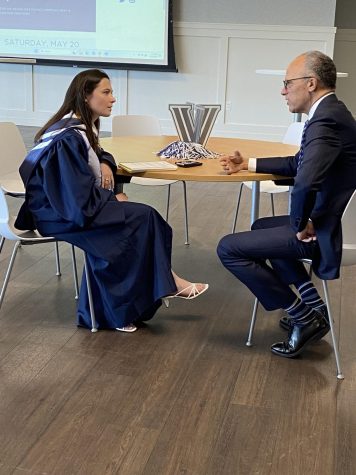 Yet the core of Holt's message, when I spoke to him and when he addressed the crowd of graduates and their families in Villanova's stadium on Friday afternoon, was simple: To find the truth you must be brave enough to say "I don't know," and you must be courageous enough to listen. 
Holt's status as speaker was interesting, as he never graduated from college. Holt dropped out of California State University Sacramento in 1979 to work at a radio station. 
"You sure you still want me to speak?" he joked. 
He explained that it was not a decision he regretted, but that it was something that shaped him, like the class of 2023's decisions will shape them. 
"To reach this point, you have already made plenty of choices," he said. "In some cases, the consequences of those choices were predictable, and they played out in real time in your lives, but you will learn others will play out across a lifetime, and you have to prepare yourself for that." 
After leaving college, Holt quickly rose from a reporter in New York City to an anchor in Chicago. He then moved on to MSNBC, advancing to his current position as anchor of NBC Nightly News in 2015. When asked what he would say to his younger self, Holt said he would have advised himself to slow down and appreciate things more. 
"I would (say to) become a better student of life," he said. "I left college, I pursued my career, and I was kind of moving 90 miles an hour. I didn't savor a lot of things, and some things I wish I had taken a little more time to experience." 
As a lead anchor at the height of the pandemic in 2020, Holt explained that people expected him to have all the answers, and that he was often asked if we were going to be alright. 
"I appreciate the trust in me that's implied in that question, and I do seek those answers," he said. "But my answer to those broader questions like 'Are we going to be okay?' I have to say, I don't know." 
"It's a surprisingly difficult thing to say for someone who spends each day providing answers to millions of people on a lot of topics… especially in a society that seems to thrive on sharp opinion," Holt said. "Until we can acknowledge what we don't know, we can't possibly be asking the right questions. You don't have to be the smartest guy in the room. Your aim should be to be the one asking for more information. The one audacious enough to say, 'I don't know.'" 
Another question Holt is often asked is how to address the deep divide in the US today. Again, he does have to say 'I don't know,' but he also advised the class of 2023 to step back and listen to the people around them, because that is how we can begin to mend that divide. 
"I'm obviously an active participant and a defender of the freedom of speech," he said. "But sometimes, sometimes I wonder if a little less talking might serve us better in some circumstances…When I say listening, I'm speaking of more than just hearing words, but hearing the meaning and the perspective and the experiences of others. … Find the courage. Learn to listen with your mouth closed." 
Finally, Holt encouraged students to go out in search of the truth using the rich education and support system they have found at Villanova. 
"The learning starts now, if only you go in search of the truth using all the tools of effective communication," he said. "In my role, I may not know all the answers, but I think I know this. Class of 2023, you're gonna be alright."