President Biden Offers Warning to Nation and Calls for Action in Philadelphia Address
PHILADELPHIA, PA — Thursday night, from the heart of the City of Brotherly Love, home to the place where America first declared independence, President Joe Biden spoke of unity in the face of division. He addressed the nation outside Independence Hall with one prevailing message: democracy is in danger, and it is up to us to unify and save it.
He began, "Tonight, I've come to this place where it all began to speak as plainly as I can to the nation." 
Biden was clear that America is in danger. 
"But as I stand here tonight, equality and democracy are under assault. We do ourselves no favor to pretend otherwise," President Biden said.
Amid contentious midterm election campaigns and increased polarization across the U.S., Biden's highly anticipated speech addressed these subjects and called for action from the American people. Biden called out the "MAGA Republicans" from early in his speech and deemed them a threat to democracy as we know it.
"​​Too much of what's happening in our country today is not normal," Biden said. "Donald Trump and the MAGA Republicans represent an extremism that threatens the very foundations of our Republic."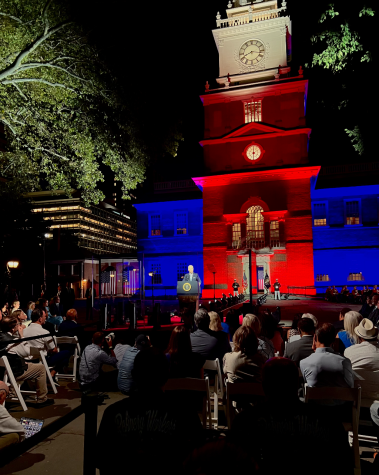 Biden made clear that he does not equate all Republicans with "MAGA Republicans," explaining that the far right represents an extremist and unpatriotic view. He made an appeal directly to moderate Republicans ahead of the midterm elections. The President called attention to his collaborative engagements with Republicans over the course of his career in politics. Biden continued to position himself as a President for all Americans, not just members of one side or the other. He reminded Americans, "You can't love your country only when you win." 
Biden reminded the American people that he is devoted to leading the entire nation, regardless of political affiliation. 
"These are hard things, but I'm an American president, not a president of red America or blue America, but of all America," Biden said. 
Despite his call for unity however, the President singled-out "MAGA Republicans," accusing them of not respecting the Constitution or rule of law. He addressed Republican efforts to deny the election results and are working in various states to "give power to decide elections in America to partisans and cronies." 
This historic address comes in the wake of the January Sixth hearings, as well as the overturning of Roe v. Wade in June. Biden addressed these significant events in American history in a profound statement that clearly asserted "MAGA Republicans" were to blame. 
"MAGA forces are determined to take this country backwards, backwards to an America where there is no right to choose, no right to privacy, no right to contraception, no right to marry who you love," Biden said. "They promote authoritarian leaders, and they fanned the flames of political violence that are a threat to our personal rights, to the pursuit of justice, to the rule of law, to the very soul of this country." However, the President offered words of hope. "While the threat to America and democracy is real… we are not powerless in the face of these threats."
Throughout the speech, shouts of "Let's go Brandon" and the wails of sirens could be heard as protestors gathered outside of Independence Hall. Biden referenced the protestors, reminding the crowd that this is their right, and proceeded on. 
Through the protests, President Biden still continued to call for action in the name of protecting democracy. He explained that the American people hold the responsibility to get out, engage, and demand change and to have their views represented in government. Biden stated that the current moment of our nation is unique. 
"I believe America is at an inflection point, one of those moments that determine the shape of everything that's to come after," Biden said. "And now, America must choose to move forward or to move backwards, to build a future or obsess about the past, to be a nation of hope and unity and optimism or a nation of fear, division and of darkness."
One of the President's final messages of the night was a direct demand to the American people to engage in the democratic process. 
"Speak up. Speak out. Get engaged. Vote. Vote. Vote," the President said. 
Government officials and community leaders of all levels echoed the President's words. Tony Watlington, the newly minted Superintendent of the Philadelphia Public school district said, "We have got to fight to preserve American democracy."
This call to action was also emulated by Pennsylvania state politicians following the President's address. Pennsylvania Governor Tom Wolf emulated this call for civic engagement.
"We need to recognize that what he said is true: we're all responsible for our future," Wolf said.
When asked his message for young voters who lack faith in the democratic process, the Governor continued a plea for participation.
"The way you gain faith in democracy is to participate," Wolf said. "You can't sit back and say, 'I don't like it.' It's yours. If you don't like it, you're to blame."
Congresswoman Mary Gay Scanlon, who represents Pennsylvania's 5th Congressional district, shared her thoughts or Biden's address.  
"I think he met the moment," Congresswoman Scanlon said. "It has been very frustrating working in Washington, DC. More frustrating to have to deal with the people who know better and are not standing up for democracy. I think it's about time we recall that. It's time we stand up for democracy or go home."
She continued, addressing young voters.
"[Young voters] are already making a difference," Scanlon said. Representative Scanlon will be on Villanova's campus on Friday, September 2 to encourage Villanova students to register to vote. 
The theme of the night was "We the people." Throughout the speech, Biden encouraged "we the people" to keep the faith, fight for democracy, get involved, and as the President so passionately reminded Americans, "… remember who we are, the United States of America." Biden's speech was one of his most important to date since getting elected, and it serves as a push to action and an attempt to bridge the gap between parties. With the midterm elections approaching, recall the President's words: "We can choose a better path, forward to the future."