Emma Dabiri Named Charles A. Heimbold Jr. Chair of Irish Studies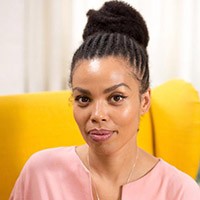 Each spring semester, the Irish Studies Department at the University selects an Irish writer to serve as the Charles A. Heimbold Jr. Chair of Irish Studies. For the Spring 2022 semester, Emma Dabiri has been selected to hold this esteemed position. In addition to being a published Irish-Nigerian writer, Dabiri is a broadcaster for the BBC, an influencer on social media and a scholar. She is currently pursuing a Ph.D. in Visual Sociology at Goldsmiths University in London, particularly looking at the racial category of mixed race and investigating "how we can think about subjectivity through registers other than race."
Because Dabiri lives in the United Kingdom, her transition to the University has involved some significant adjustments, including differences in time zones, food, transportation and the University layout in general. 
"It's been interesting because even when I was a student myself, I never really experienced a campus like this," Dabiri said. "Everything is so spread out [in London], and living so close to campus is not something I ever experienced as a student."
Overall, Dabiri finds the University to be "very nice and friendly" and "a nice teaching environment," with a beautiful campus and students that are involved and dedicated to their studies.
Dabiri is currently teaching two courses, with the first being Creative Nonfiction Writing for Social Change.
"We're looking at different genres of nonfiction—everything from slave narratives, to autobiographies, to polemics," Dabiri said. "We're looking at a lot of different essays by activist organizations and comparing differences between writing about race and gender in other historical moments and now."
A central goal of this course is, according to Dabiri, to understand "how different genres can be utilized to effect social change through writing," combining elements of historical research, analysis, memoir and autobiography.
The second course that Dabiri is teaching this semester is Green and Black: Irish and Africana Literature and Culture, a comparative course that highlights the similarities and differences between Irish and Africana writing. 
"We're looking at the Irish literary revival and the Harlem Renaissance, and then looking at more contemporary writers as well," Dabiri said. "We're looking at questions of self-determination, language, identity, cultural identity and race."
Dabiri noted how interested she was in teaching this class in particular, as it involved diving into a topic she is passionate about that is different from the research she is conducting for her Ph.D. Ironically, she even mentioned that she had tweeted about wanting to teach a comparative course about Irish and African American literature, with her position at the University allowing her to fulfill this desire.
In reference to being selected as the Heimbold Chair, Dabiri was excited and honored to have the opportunity.
"It's really nice to be in an Irish studies environment where there is so much reference to Irish culture, history, language and music," Dabiri said. "It's fascinating to see it through a diasporic lens."
Dabiri views her role as the Heimbold Chair as being someone who can offer valuable advice and guidance to students at the University who are interested in pursuing a similar career path as herself. 
"I see my role as being a practicing writer who can share that first-hand experience of being a published writer with my students," Dabiri said. "I also hope that there can be some kind of practical application for students that want to be writers themselves, get into publishing, or pursue any career in those kinds of spheres."
Dabiri has published two books: "Don't Touch My Hair" (published in 2019 in Ireland but released in the U.S. in 2020 as "Twisted: The Tangled History of Black Hair Culture") and "What White People Can Do Next" in 2021. Dabiri will be discussing "Twisted" on Tuesday, March 15 as a part of the 2022 Literary Festival. She will be reading a passage from her book that draws on her own childhood experience of living in Dublin as a person who is Black and Irish. According to Dabiri, her book is grounded in an autobiographical framework, but also expands to look comprehensively at Black hair culture.
"['Twisted' is] a book about Black hair, but I cover everything from precolonial West Africa from the 1700s to the movement [and kidnapping] of millions of Africans from West and Central Africa to the Caribbean and the Americas, and the impact that it had on Black hair culture," Dabiri said. "Through Black hairstyling culture, we can consider everything from time, to metaphysics, to philosophy, to beauty practices and the adornment of the body." 
Dabiri also expressed the implications of her book and how it explores historical resistance to cultural assimilation.
"These hairstyles act as embodied archives in which we can examine and explore histories that have been suppressed, lost, or subjugated," Dabiri said.
Dabiri is looking forward to the Literary Festival event, which will take place in the Presidents' Lounge in Connelly Center. The reception for the event begins at 6 p.m., but the reading will commence at 7 p.m.