Senior Hannah Medsker Takes a Non-Traditional Approach to her Honors Senior Thesis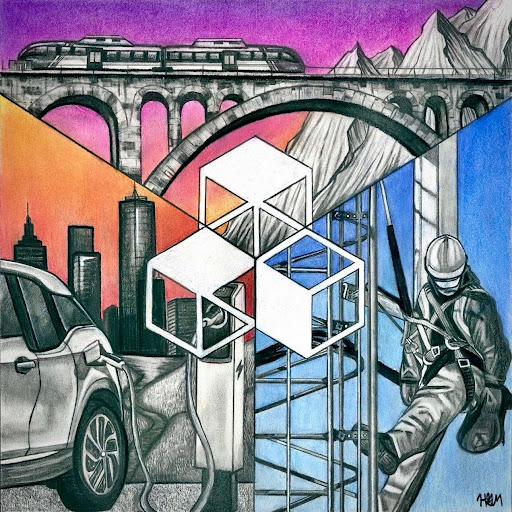 Senior Neuroscience and Humanities double major Hannah Medsker is pursuing a more non traditional approach to her Honors Senior Thesis. She is doing art installations around campus, with the help of other University students, to raise awareness for the United Nations Sustainable Development Goals (SDGs). The thesis consists not only of the art but also a written argument that attempts to tackle the SDG awareness deficit on campus, as well as the connection between public art and education.
For those unaware, the United Nations has 17 Sustainable Development Goals that it hopes to achieve by 2030. The mission was adopted by all UN member states in 2015 to form a global partnership with a common goal of ending poverty, improving health and education and spurring economic growth. 
The University has a similar Sustainability Plan that is largely modeled after the United Nations', but Medsker believes US citizens are largely unaware of these goals, compared to other countries, and even students and staff at the University. Thus, her project and goals are extremely relevant. 
"Each installation corresponds with one Sustainable Development Goal," Medsker said. "Of course, the key element of each installation is the featured artwork, which uses the official United Nations logo as the design construct, but they will also include an example of a Villanova community member or group whose work embodies that goal."
Some of the goals represented include life below water, reduced inequalities and affordable and clean energy. The installations will be displayed in the academic buildings or departments most related to the SDG. Currently, SDG 7, 8, 10 and 14 are on display in the Departments of Civil and Mechanical Engineering in Tolentine, the Center for Peace & Justice in Corr and the Department of Geography and Environment in Mendel.
In addition to being supported by the Honors Program, the Humanities Department, the Center for Global & Public Health and the Center for Humanitarian Engineering, Medsker is partnering with other student artists. These students include Emma Pacelli, Mary Swikle, Hailey DeVita, Amanda Pokoj, Abby Donoghue, Annabelle Murray, Tommy DeStefanis, Cassandra Thomas and Sara Barshap, all of whom have a diverse array of skills in pencil, acrylic paint, watercolor and graphic design. These are all represented in the installations. 
Medsker attributes much of the inspiration for her thesis project to the intersection of her areas of study and interests.
"We thought art could be a creative and effective way to spread SDG awareness at Villanova, and I have extensive experience drawing professionally," she said. "The project also integrates both of my majors: humanities because I am exploring the importance of public art and its relevance to education, and neuroscience because I am examining the neural pathways that make the human brain so responsive to art." 
She also conversed heavily with her Honors tutor, Ruth McDermott-Levy, who visited a school in Finland that had a mural of all the SDGs present on its campus. So, of course her project is entirely original and creative, but help from others along the way certainly sparked inspiration. 
Along with her Neuroscience and Humanities double-major, Medsker has a number of minors, including Global Health. Her passion for Global Health stems from its ability to blend social justice and science, clearly present in this project. She will be continuing her education, specifically in Global Health, next year at a master's program in Europe.
Supporting and understanding the hard work of Medsker and fellow students surrounding SDGs is a first step in being a more informed citizen, specifically regarding sustaining the planet. Check out the four art installations currently available in Tolentine, Corr and Mendel and look out for more during the rest of the semester.