Supreme Court Justice Breyer Retires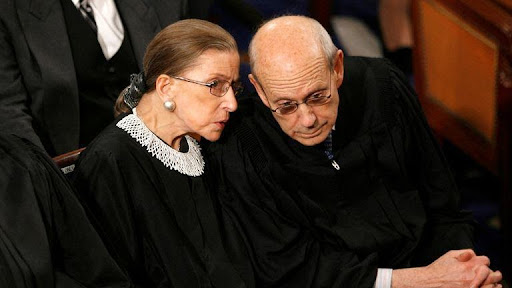 Long standing Supreme Court Justice Stephen Breyer will step down at the end of his current term. Breyer is 83 years old and served on the court for more than 27 years. He currently serves as the court's oldest member. Breyer was appointed to the Supreme Court in 1994 by President Bill Clinton and became one of the court's moderate-to-liberal members. 
Breyer is known for his optimism and pragmatism and is highly respected among his colleagues. Associate Justice Elena Kagan described him as a "brilliant and wise judge whose vision of law will remain of great importance" and that he "believes in making institutions work; to strengthen this one, he listens to other views with care and generosity, and does everything he can to find common ground." Breyer's goal was to enforce democracy and to supply workable legal principles for a sprawling and diverse nation.
With that said, civil rights measures were extremely important to Justice Breyer, and he wrote many court decisions in favor of protecting those rights. Breyer wrote the court's decision to expand speech rights for students, and in another major case he wrote the court's decision tossing out a challenge to the Affordable Care Act. In 2016, he wrote the court's abortion decision striking down a Texas law that closed half of the clinics in the state without any demonstrable safety justification. Breyer largely believed in abolishing the death penalty, as he believed it was unconstitutional. He wrote that the death penalty "significantly undermines the rationale for imposing a sentence of death in the first place."
Brett Kavanaugh, Clarence Thomas, Samuel Alito, Neil Gorsuch, Amy Coney Barrett and John Roberts are the current Supreme Court Justices holding the conservative majority. Breyer is one of three remaining liberal justices on the court, in addition to Elena Kagan and Sonia Sotomayor. In order to maintain the current six to three ratio between conservative and liberal judges, Biden must appoint a liberal successor to replace Stephen Breyer. 
Liberal activists wanted Breyer to retire because Democrats hold the White House and Senate, so it would be up to Biden to replace Breyer. Last year, when liberal Supreme Court Justice Ruth Bader Ginesburg died during Donald Trump's presidency, she was replaced with a conservative justice, Barrett. 
"The timing of Breyer's retirement is actually connected with Ruth Bader Ginsburg,"  said Villanova Political Science professor, Frank Pryor. "I think President Biden wanted the opportunity to replace Breyer as he was nearing the retirement age before the November midterm elections."
During his campaign trail, Biden promised to nominate a Black woman if he were to replace someone on the Supreme Court. Biden says that the person he nominates will be "someone with extraordinary qualifications, character, experience and integrity." That person will be the first Black woman ever nominated to the United States Supreme Court. Biden's promise received lots of support from many other politicians, specifically Senator Patty Murray of Washington. She believes that "the court should reflect the diversity of our country, and it is unacceptable that we have never in our nation's history had a Black woman sit on the Supreme Court of the United States." 
According to CNN, there are some guesses as to who Biden will nominate. Judge Ketanji Brown Jackson, California's Supreme Court Justice Leondra Kruger and South Carolina's U.S. District Court Judge J. Michelle Childs are some names that have surfaced.