University Opens Booster Clinic for COVID-19 Vaccine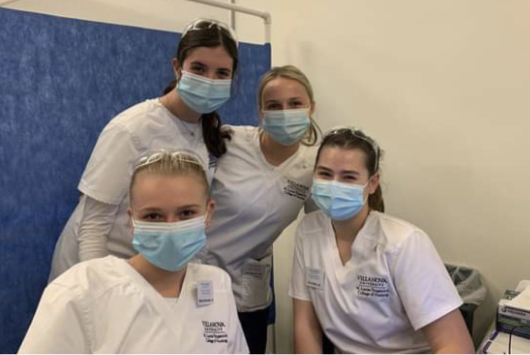 As the University kicks off the spring semester, amid the continued global pandemic, it is as important as ever for Villanovans to be vaccinated to protect themselves and others in the community against COVID-19.
Per an email sent out by University President Rev. Peter M. Donohue, O.S.A., Ph.D., all community members will be required to receive their COVID-19 booster shot. As a result, the University is partnering with Rite Aid to hold booster clinics on-campus to make it easy for all faculty, students and staff to fulfill the vaccination requirements.
The clinics will be held on Wednesday, Jan. 19, Thursday, Jan. 20 and Tuesday, Jan. 25. Students can schedule an appointment anytime between 9 a.m. and 5 p.m.  The clinics will be set up in the West Lounge of Dougherty Hall, which, for those who may be unsure, is located in the same hallway as the Wildcard Office.
Anyone who received the second dose of the Moderna or Pfizer vaccine before Aug. 15, 2021, or the Johnson & Johnson shot before Nov. 15, 2021 will be able to get booster shots on the days listed above. For the booster shot, it does not matter which vaccine one received originally, so people can choose any of the three options.
In addition to this information, the email sent by the Fr. Peter also has two important links: one for scheduling an appointment for the booster shot and one for uploading an updated vaccination card to document full vaccination status. The documentation must be submitted by Jan. 31, 2022.
Kathy Byrnes, the Vice President for Student Life at the University, encouraged all students to register for the clinic if they have not already gotten their booster. 
"It gives you some added protection," Byrnes said. "It seems like with the Omicron variant, the good news is people aren't getting super sick, but on the other hand, a lot of people are getting it."
Byrnes noted that there are several studies that demonstrate the positive effects of having your booster shot, since students are less likely to contract COVID-19, and even if they do, they may not experience as severe of symptoms as someone who is not vaccinated.  This is especially pertinent now, given the surge in cases on campus following winter break. 
"I am optimistic that this variant will go the way in the U.S. as it has gone in South Africa and the UK, with a big spike but then a big drop off," Byrnes said. "We aren't there yet, but I think we can manage it. Villanova students have shown how resilient they are." 
In addition to providing more protection from COVID-19, Byrnes also mentioned that having the booster shot also makes it easier to navigate isolation and quarantine guidelines. For instance, if a student is not fully vaccinated and is exposed to someone with COVID-19, they would have to go home to quarantine for five days. However, if they are fully vaccinated, including the booster, they can quarantine without leaving campus or greatly disrupting their schedule. Burns noted that these new guidelines from the CDC, which thus far have served the community well, helped inform the University's decision involving vaccination and will hopefully allow students to have as normal of a college experience as they can during these times.
As  someone in a position with decision-making power at the University, especially during a global pandemic, Byrnes always has the best interest of the Villanova community at heart and recognizes how important it is to not just think of ourselves, but to also think of the people around us. 
"I view the Villanova community as my family," Byrnes said. "What do I need to do to keep my family safe? How can I protect everybody?"
Byrnes also knows how much of a toll this pandemic has taken on everyone and reminds us how important it is to be kind to ourselves and each other.
"These pandemic days are hard days," Byrnes said. "It's okay to not feel great every day, it's okay to ask for help, and it's okay to say, 'I am really stressed out,' whether it's from school or friend groups or worries about the pandemic. These are stressful times."
Byrnes predicts that the booster clinic will help a lot of people get their booster shot, which will in turn help individuals and the community at large be safe. She wants to reassure Villanovans that if all the appointments for the three clinics become fully booked, then the University will add more opportunities to get the booster to ensure that everyone can become fully vaccinated. In the meantime, students should continue to wear their masks when they are indoors, maintain social distancing and cooperate with the surveillance testing to mitigate the spread of COVID-19.