Men's soccer heads into season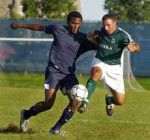 Goals. More than anything scoring has been the men's soccer teams biggest nemesis the last couple of years. The 'Cats totaled only 16 goals in 2002, while 39 were scored against them. With a 5-13 record last year, most of 'Nova's wins came from superb defensive play, especially from captain Steve Leaman. However, with Leaman graduating last year along with goalies Sean Teasedale and Jon Williams there is an obvious void in goal.
So this year with a diminished defense, the team will have to focus more on trying to revamp a dissolute offense. Sophomore Charlie Rowan returns to the team this year and after getting a year under his belt, in which he led the team in scoring with five goals and one assist, look for this sophomore sensation to have a breakout year.
Also, with the hard recruiting of Coach Larry Sullivan the team was able to land Marcelo Rodriguez who definitely will give a boost to their scoring. Rodriguez is a good athlete who can be explosive around the other team's goal.
Taking a big step up this year will be Ross Brindle. Last year, Brindle provided some depth off the bench for the team, totaling two goals. If Rodriguez does not live up to his early hype look for Brindle to be counted on heavily as a scoring threat. The rest of the team's front line will be filled out after tryouts conclude.
The team's mid-field is where this team's depth is. They have a plethora of players to switch in out. Seniors Dan Massimini and Jon Greene, Juniors Jonathan Lopuski and Kyle Cleary and Sophomore Brett Stassfurth and Chris Blatz will provide Villanova with constant reinforcements coming off the bench at every time. Though these five have been persistent performers in the mid-field, some might be moved up to the front line to help strengthen the team's scoring ability.
The team's so called last line of defense is made up a couple of players switching back to their old positions. Seniors Colin Raws and David O'Donnell are joined by Junior Chris Edgar and sophomore Patrick Gallagher as the team's defensive strength. O'Donnell is going back to defense after being pushed up to the front lines last year, where he was asked to provide some offense for the 'Cats. Also moving to defense is Edgar. Edgar was one of the teams leading scorers last year, tallying seven points, which put him in second place on the team. Gallagher is the other member of the team making the switch. Last year Gallagher saw most of his action in the mid-field, but his experience playing last year could add some much needed help in replacing Leaman.
The team will be put to test right away when they visit their neighbor to the East, Drexel today at 4 p.m. And then they have to venture to Hempstead, N.Y. to take on Hofstra, next Monday.