Ethics Department Offers Two Fellowships for Research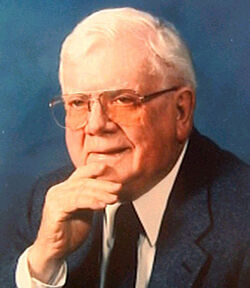 The University's Department of Ethics recently announced the establishment of two new annual undergraduate student fellowships made possible by a gift from the family of 1937 CLAS alumnus John T. McLaughlin, M.D.
The John T. McLaughlin, M.D. Fellowship, the first of the two, seeks proposals surrounding bioethics or healthcare ethics, in honor of McLaughlin's background in the medical field and his family's wish to sponsor work in these areas.
The second fellowship, named in honor of Sr. Thea Bowman, will be awarded with a preference of applicants whose proposals focus on issues affecting minority communities. This goal originated from the vision of the University's Ethics Program Director Mark Doorley, Ph.D.
"For years in the ethics program, I've been looking for an opportunity to focus on minority communities in particular," Doorley said.
However, these fellowships, each including a $3,000 stipend toward project research and generation, are not necessarily limited to these preference areas. Any and all compelling ethics proposals will be considered.
In general, the goal of these fellowships is to create a space for conversations and deeper understandings of ethics on campus, particularly surrounding issues that concern and affect students, as Fellowship Coordinator Krystin Sessions, Ph.D. explained.
"As a department, we wanted to offer a fellowship to undergraduates to encourage more discussion around ethics on campus," Sessions said. "We really wanted a fellowship that allowed students to take the lead, to be the ambassador in creating extra-curricular or co-curricular programming."
The student leadership aspect is a major element unique to these fellowships. In their projects, fellows will lead the charge in research, development and implementation of their creative vision. This concept breaks from some other traditional fellowships, in which students may play a more secondary, supportive role to a faculty member.
"The roles are reversed here," Sessions said. "The faculty mentor will have conversations with the fellow and help them think more deeply, but the idea and the implementation are really yours, so the faculty member takes a supporting role to that."
Along with leadership, creativity is massively important for future McLaughlin fellows, as the call for proposals is broad and open to innovative formats. This could range from performance pieces to workshop series to virtually any idea well-suited to a student's interest area.
"We're excited to see people bring up and offer things that we may not have considered ourselves," Sessions said. 
The implementation of these student fellowships is intended to go beyond a typical research project, leaning into student creativity to explore unique topics and media.
"There is a research component—we want the students to grow in knowledge in the issues that they pick—but we really encourage more creativity and innovation," Sessions said. "It's really focused on allowing people to use their creativity and build on their knowledge of the campus and what their peers need or would like."
The McLaughlin Fellowships' emphasis on student creativity is rooted in its mission to encourage those meaningful ethical conversations on campus beyond students' requisite ethics course.
"I've always been looking for ways to communicate that ethics is not strictly academic, not limited to the classroom," Doorley said. "The best way to facilitate discussions about ethics on campus is through students leading the charge."
Ideal McLaughlin Fellows are students who are willing to take up the mantle to start these important dialogues with their peers and community in a creative way.
"We're looking for people who have a passion for these types of discussions, and a level of creativity and initiative that takes their project beyond the academic and into community leadership," Sessions said.
Rising juniors and seniors from all colleges are encouraged to apply for the McLaughlin Fellowship, and proposals will be accepted until 11:59 p.m. on Apr. 9.