Prospective Students Attend 2021 Candidates Day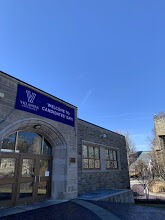 This past Saturday, Villanova's Blue Key Society welcomed prospective students who have been accepted Early Action to the Class of 2025 with its annual Candidates' Day event. In light of the COVID-19 pandemic, with social distancing and travel restrictions, accepted students were not able to come to campus to be welcomed into the community in-person with Blue Key's usual posters, decorations and 8 a.m. screams. However, the Society was still able to provide a safe, virtual day of information and hospitality for potential baby Cats.
The focal point of the day was "Connect-with-a-Cat" sessions that took place via Zoom. Blue Key members were matched with small groups of accepted students based on a survey of interests and reached out to their students earlier this week to introduce themselves and provide Zoom links and times. The meetings consisted of getting to know one another, answering prospective student questions about academic programs, campus life and more, as well as helping them through the process while encouraging to #GoNova.
Freshman Jessi Huwar, a member of Blue Key, spoke very highly of the day.
"Virtual Candidates' Day provided an awesome opportunity to engage with prospective Villanova students from across the country," Huwar said. "The students in my group were attentive and fun, eager to hear about Villanova in order to make an informed decision about the future of their education. The virtual aspect allowed prospective students to be connected with Blue Key ambassadors in their intended field of study, providing a clear and detailed picture of what their next four years may look like."
Members of Blue Key also created videos detailing why they decided to #GoNova for a video montage and wrote pieces of advice for a prospective student advice column to be featured in a Candidates' Day Newsletter.
Members also made TikTok videos displaying anything from something unique about Nova, A Day in the Life, Prospective Student Welcome Video and more to be featured on Blue Key's Villanova Admissions Tiktok.
Junior Juliana Cosenza was the Senior Director of the Candidates' Day Committee and spoke on her experience of coordinating the event in a year like never before.
"It was definitely challenging to plan an event amidst a global pandemic, but I think planning Candidates' Day this year showcases the different ways we have adapted to the 'new normal' within the past year," Cosenza said. "The impact of COVID-19 has changed the entire planning process for Candidates' Day, but that has given the Committee an amazing opportunity to integrate new and creative ideas to welcome the incoming Class of 2025."
Although it looked much different than last year's Early Action Candidates' Day, the event was a huge success, and the incoming Class of 2025 was still able to feel welcomed into the Villanova community, even if not physically on campus.