Fostering a legacy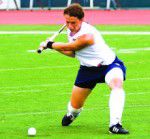 Senior Megan Foster sealed the victory for the field hockey team with a simple swing of her stick a little more than three minutes into overtime against rival St. Joseph's at Finnessey Field on Oct. 18. Scoring the game-winning goal was nothing new for Foster, as it would be the 23rd time she put the ball in the back of the net this season. The significance of this familiar action for the senior from Berlin, N.J., however, will be remembered by her and her teammates.
That goal secured Foster's place in the Villanova record books for scoring the most goals in a single season. Foster picked up her record-tying 22nd goal in the previous game against Big East opponent Louisville and broke the record the very next game against the Hawks.
After cementing her name in Villanova history, Foster couldn't have been more thankful or humble in recanting her accomplishment.
"I am just really excited to have had the opportunity to play field hockey here. It is an honor to be a part of such a program," she said. "In breaking the career points and career goals record my name will go in the record books. It is just a really nice thought that my name will continue to be a part of the program."
Always the consummate team player, Foster believed that breaking the record before the beginning of the Big East Championship would help her and the team's play as they moved into the postseason.
"During the games I do not try to think about the records," she said. "I just stayed focused on my game and the records came. Personally, it has given me confidence to continue to score. As a team, we focus on each game separately and concentrate on the game ahead. We have gained confidence in each of our personal achievements and our progress as a group."
One problem some athletes have when chasing such momentous records is the added pressure it brings to their games and mental preparation. Foster is poised to remain focused and not let it change her game, now that she has broken the record.
"I have always been hard on myself, like many athletes," she said. "Now that I have broken the record, I just keep trying to remember that if I am meant to score, I will. I try not to over-think things because that is when you lose focus."
Foster, whose sister played college field hockey at Ursinus, credits her older sibling with inspiring and guiding her through this long, record-breaking season.
"My sister and I are very close," Foster said. "She has been a role model to me for as long as I can remember. She is just as happy for me as I am for myself. She brags about me to all her friends and coworkers, so I do not rub it in at all. She was a great player herself and I am a product of her guidance and help."
Foster is part of a team that exudes confidence.
"We are a very dedicated and hard-working bunch," she said. "[We] play our hardest to the very last second."
Unfortunately for the team, the Wildcats were eliminated from the Big East tournament in the first round after losing to the Providence Friars 4-2. Although the season is over for the Wildcats, it is a season that they won't forget.
The final question that remains for Foster is what the future holds for her now that her Villanova field hockey career is over.
"I plan to move abroad for a few years," Foster said. "I am a communication major and hope to go into public relations. I look forward to having some fun before I settle into a routine."
It will be interesting to learn what Foster's new routine becomes after graduation. Her current routine, scoring goals at will and breaking Villanova field hockey records, is one that she will be leaving behind. Given the dedication and success she has shown on the field, there is no doubt that Foster will continue to be successful in all her future endeavors. She will be remembered as the senior who helped establish Villanova's dominating field hockey presence.