Show Review: Love Conquers in "The Leftovers" on HBO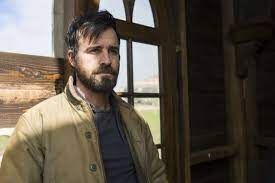 Up until August 15, 2020, I only knew Justin Theroux as Jennifer Aniston's ex-husband; you couldn't have paid me to recognize him out of a lineup. After succumbing to peer pressure, though, I put my HBOMax subscription to good use and started watching "The Leftovers."
The show follows police chief Kevin Garvey (Theroux) as he and the residents of Mapleton, New York deal with The Sudden Departure: a day when half of the world's population mysteriously disappeared. The premise itself intrigued me, especially when I realized it was adapted from a book by Damon Lindelof, the creator of the acclaimed series "Lost." At some point early in season one, it dawned on me that it wasn't the actual disappearance that was keeping me tuned in, however. In "The Leftovers," The Departure is an event that has already happened. The show is about rebuilding and rediscovery after the fact.
The Departure hung over the country (and the show), but what kept "The Leftovers" interesting was following along with Kevin. Through him, we are introduced to his ex-wife Laurie and the cult she ended up joining: his daughter (Jill) and son (Tom) who continue to distance themselves from Kevin, and Kevin's father, who was institutionalized because he began to hear voices — eerily prophetic voices. For a large part of the first season, Kevin has to reckon with the fact that even though his family hadn't disappeared, he had lost them anyway. Simply put: Kevin Garvey Is Trying His Best.
Nora Durst, another resident of Mapleton notices this. She lost her husband and children during The Departure, and just like Kevin, numbly goes through her day-to-day life with the occasional attempt to feel something by engaging in physically or mentally self-destructive behavior. The minute Kevin and Nora meet each other, there's an unspoken understanding and familiarity. Keeping with my penchant for assigning Taylor Swift songs to fictional characters, my top pick for them would be "invisible string." I've thought about this extensively. For any COIN fans out there, their song is "Babe Ruth."
It wouldn't be fair of me to give a single spoiler about this show, but this is especially true with Kevin and Nora's relationship. You deserve to experience it with fresh eyes, because the series finale hits unbelievably hard.
Ultimately, the show is about love. Love is what turns Laurie from seemingly irredeemable into the best character in the entire show. Laurie is a perfect representation of the entire series. Even at her most unlikeable moments, her grief and frustration is so gut-wrenchingly human and relatable. Seeing her grow and forgive feels like a personal victory for the viewer. I will never love a character the way I love Laurie Garvey, and everyone I've spoken to about the show agrees. Laurie's character development serves as a great parallel and contrast for each character on the show at various points. It cannot be said enough: I love Laurie Garvey and I know you will too.
Right after finishing this show, I contacted Augustine and Culture Seminar professor Dr. Camacho and asked him if he had seen it. It seemed right up his alley. He told me that he had, and said something that has been stuck in my head ever since: "The Leftovers" is not and has never been about knowing all the answers. He was absolutely correct. At its core, it's about perseverance. The characters have incredibly enduring relationships, even amidst the mystery and uncertainty of their new-old reality. The Departure was devastating, and a part of that devastation was the fact that it dredged up already-existing flaws within society. Each character goes through their own rediscovery of what love is to them, just like Laurie, and by the end, the interconnectedness of everything and everyone comes to the surface.
Despite the mystical and paranormal elements of the show, it never seems unrealistic or out of reach. The direction of the show is entirely unpredictable, yet the characters make it feel so familiar. When (and I do mean when) you watch this show, you might wonder why I left certain characters or plot points out of this review. That's because I firmly believe that the ideal way to watch this show is with zero spoilers and the understanding that this is a love story. Not just between Kevin and Nora, but truly every single character. I'm already worried I've said too much.
I would be remiss if I ended the review without talking about the excellent use of music in this show. Watch "The Leftovers", and I assure you: you won't be able to think of "Where Is My Mind" by Pixies or "Homeward Bound" by Simon and Garfunkel the same way ever again.
At three very short seasons, "The Leftovers" should be the next thing you hit play on next weekend. It will change your life; or at the very least, it'll make you realize things about yourself and the people and ways you love.
If you end up watching, say hello to Nora, Laurie, Kevin, and Matt for me.