Tennis: Wildcat men and women handled at Georgetown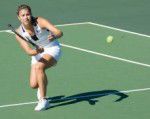 Both men's and women's tennis teams struggled against the Georgetown Hoyas this past weekend. The men's team lost its singles matches 6-1 at the McDonough Tennis Complex, while the women fell short with a score of 5-2 at the Army-Navy Country Club in Arlington, Va. The doubles teams did not fare well either, with the men falling 3-0 and the women 2-1.
On the men's side, junior Brian Maher walked away with the Wildcats' lone victory, winning his match in three sets over David Tillem. Senior Dimitri Chimerakis lost the first match in straight sets 6-2, 6-2. Villanova sophomore Brett Tobin lost his match to the Hoya senior Etienne Paris, who is undefeated in singles, after retiring in the second set at 6-2, 5-1. Freshman John Drosick pushed his match to three sets before losing the final set with a final score of 6-1, 2-6, 6-0. The doubles teams struggled to get anything going, losing their matches 8-1, 8-2 and 9-8.
The women were able to walk away with the No. 3 and No. 5 singles matches and the No. 1 doubles match. Sophomore Courtney Reed took the No. 5 match in straight sets over Georgetown senior Liz Winokur, 6-4, 6-4. Jaclyn Williamson won in a tough match with a score of 7-5, 7-5. The combination of Williamson and senior Ashley Reed proved to be successful when they took their doubles match over Hoyas Stephanie Cohen and Winokur 8-6. Sophomore Carla Erskine did not go down without a fight, losing the No. 1 women's singles match 6-0, 7-6. It was a mixed day for the women, with a few bright spots among the losses.
The men have matches away at St. John's today, at Illinois-Chicago and at Marquette on Saturday and at Sacred Heart on April 15 before the Big East tournament on April 18. The women have one last match against West Virginia tomorrow. — C.M.