Best Springtime Restaurants to Ring Out the Semester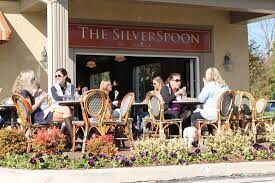 Spring has officially sprung at Villanova. Flowers are blooming, trees around campus are full of color and the quad is alive with happy students. And, of course, to coincide with the ability to finally be outdoors, we are all of a sudden swamped with schoolwork. While the end of the semester may be a busy time, it is important to remember to enjoy the warm weather and make some final memories of the year with friends. With COVID-19 numbers low and many people vaccinated, now is the perfect time to gather with one's circle of friends in safe, socially distant settings. What better way to do this than supporting local businesses by dining outdoors? Here are some of the best springtime restaurants in the area to ring out the semester. 
La Scala's Fire: Recently reviewed by The Villanovan, La Scala's Fire is a new restaurant located in Villanova Center, a five minute walk from campus. It offers a heated outdoor seating area consisting of many tables and couches, managed by a very friendly staff. Inside, the decor is amazing and perfect for photos. The restaurant is knowood fired pizzas and delicious shareable appetizers and is a perfect destination for an evening stroll at sunset.
The Silverspoon: Located in Wayne across the street from the indoor farmer's market at 503 W Lancaster Ave, Silverspoon is a BYOB restaurant, offering contemporary American cuisine with an airy atmosphere. Its large, aesthetic outdoor patio is perfect for brunch, lunch or dinner on a warm day. Menu options include silver dollar pancakes, a delicious eggs benedict, truffle fries and so much more. 
White Dog Cafe: With two different locations in both Wayne and Haverford, brunch at White Dog is a weekend staple for Villanovans. Serving brunch, lunch and dinner, White Dog offers an outdoor patio, as well as a large, heated outdoor tent for the days when there is still a chill in the air. It serves incredible eggs benedict, savory burgers and so much more. To top it all off, bottomless mimosas, sangria or bloody Mary's are served through 3 p.m. for students over 21 years old. 
Enoteca Tredici: A chic wine bar with eclectic small plates, Enoteca Tredici is located just down Lancaster Ave in Bryn Mawr. It has a tented outdoor patio, perfect for a classy outdoor dinner with friends or special date night. Menu options include Mediterranean cuisine, flatbreads, pasta, burgers, steak and much more. Another walkable option, Enoteca is a great choice for a warm night. 
Be sure to support our local business and release some stress with friends by trying one of the incredible dining options in the Villanova area.