'MythBusters' host to speak at Commencement ceremony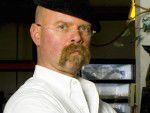 Jamie Hyneman will speak at the University's Commencement for the Class of 2010 on May 16. Hyneman, a special effects engineer and host of the Discovery Channel TV show, "MythBusters," will be giving his first commencement speech. He will also be receiving an honorary degree from the University.
The Honorary Degree Committee has been working since September to choose the commencement speaker. Several candidates were nominated and reviewed by the Board of Trustees, as well as by University President Rev. Peter Donohue, O.S.A. Other candidates were considered before settling on Hyneman, who was nominated by Edmond Dougherty, a computer and electrical engineering professor in the College of Engineering. 
Hyneman boasts an extensive list of skills, projects and jobs. He is a special effects engineer of sorts. He is a prototype developer, captain of a dive boat team, expert in wildlife survival, performance artist and on the cover of an issue in the magazine Popular Mechanics. 
Additionally, Hyneman holds several patents, is head of the company M5 Industries Inc. and has worked on special effects for various commercials.
No stranger to Dougherty or to the University, Hyneman is working with the College of Engineering on a two-year project. M5 Industries Inc. is working with the University on a research project funded by the Office of Naval Research in developing technology for blast restraint armor, as well as investigating disasters at sea.
Additionally, Hyneman is responsible for a grant that the University has recently received, called the Small Business Technology Transfer. This grant is intended to provide the opportunity to study new materials and techniques in the blast protection field.
Hyneman has been active with some of the University's engineering classes, using distance education facilities to interact with students and give live lectures. The engineering class has participated in lectures and discussions with Hyneman on topics of teamwork and brainstorming.
Hyneman currently contributes feedback to engineering students' Engineering Capstone Senior Projects, as he has done in the past.
Dougherty believes that Hyneman will be an educational and inspirational commencement speaker because many college-bound or college-aged students are familiar with him and his work on "MythBusters." 
In the show, Hyneman uses his knowledge to replicate situations in order to scientifically test urban myths.
Dougherty first started working with Hyneman on a project involving the overhead camera systems used during basketball games and events in the Pavilion. Since then, Dougherty and Hyneman have worked together on various projects, including senior engineering projects.
Donohue is excited to have a commencement speaker who has worked so closely with the University. Donohue explained that securing a commencement speaker is a difficult process because many of the candidates have their schedules booked months to years in advance.
"It's probably one of the most difficult things to find," Donohue said. "I was so grateful that he said 'yes' so quickly." 
Hyneman gladly accepted, and according to Donohue, is very excited for this opportunity to speak at commencement. 
"He should be very good; I look forward to meeting him," Donohue said. "I think he will be a good fit for the commencement speaker this year. He was very, very enthusiastic about doing this and honored to be asked. That's always a great thing."
A commencement speaker can speakers are approved. 
The Honorary Reviewing Committee also reviews those that are nominated to receive honorary degrees at commencement. 
This year, an honorary degree will be given to Peter Wallenberg. 
"We're honoring him for his dedication to global education and the idea of international education and his commitment to that, particularly at Villanova," Donohue said. 
He is working with Swedish students through a scholarship that allows them to attend Villanova. According to Donohue, Wallenberg also hopes that Villanova students will be able to attend a Swedish university.
Another person was selected to receive an honorary degree. Although she accepted, health reasons will keep her from attending commencement and she will not receive an honorary degree. Donohue would not disclose her name at this time in the event that she will be invited again to receive an honorary degree. Commencement weekend will take place May 14-16.
Receptions for the individual colleges and the Baccalaureate Mass will be held on May 15. Commencement will take place on May 16.