Balanced scoring, stout defense lead 'Nova on Senior Night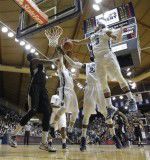 The first half of Villanova's Tuesday night matchup with the No. 25 Providence Friars had all the makings of a typical balanced offensive night for the Wildcats.  With a 34-25 lead at intermission, three 'Cats had scored six points, one had five, and two others were in the box score with four points apiece. 
A popular criticism of this year's Villanova team is that, while their balance is impressive, they do not have a game-changing scorer who can take over when the rest of the offense is not at its best.  With Providence closing in on the Wildcats' lead at the start of the second half, 'Nova needed someone to step up to thwart the Friars' comeback attempt.
Following a 3-pointer by Providence forward LaDontae Henton that cut the Wildcats' lead to just six points, Villanova took off on a 22-10 run over the course of nearly seven minutes that saw their lead swell to 20 points.
Senior guard Darrun Hilliard was responsible for 14 of those 22 points thanks to four 3-pointers and a pair of free throws.  On Senior Night at the Pavilion, Hilliard became the game-changing scorer the Wildcats were supposedly lacking.
After shooting just 1-of-7 from the field in the first half, Hilliard hit his first five field goal attempts in the second half (all from 3-point range) and finished his final game on Villanova's campus with 24 points.
His slow start on the offensive end was rectified by an incredible defensive effort in the first half that included four steals and an impressive job on Henton, who entered the night as Providence's leading scorer, averaging 20.6 points per game.
"[I] just wanted to come in and get it started defensively and be the best defender I could possibly be," Hilliard explained when asked about his seventh 20-point game of the season. "[I know] the offense will take care of itself.  Things will fall into place offensively."
Head Coach Jay Wright called Villanova's eventual 89-61 victory his team's "best defensive effort of the year."  The Wildcats forced 15 turnovers and held Providence to 44.8 percent shooting.
The Friars' top two players, Henton and sophomore guard Kris Dunn, combined for just 16 points on 6-of-18 shooting.
Senior forward JayVaughn Pinkston was also part a crucial part of this defensive effort and finished the night with a solid performance offensively.  He scored 16 points on a very efficient 7-of-11 shooting and converted on his only two free throw attempts of the evening.
Pinkston had a pair of Senior Night highlights that included a vicious block on a Providence layup attempt in the first half and a strong two-handed dunk to finish a fast break with just under eight minutes remaining in the game.
Coach Wright praised his pair of seniors, who are the only two remaining at Villanova from a class of five players entering the 2011 season.  "They lived through 13-19 [record their freshman season]," Wright said.  "[These two guys] never thought of giving in or giving up on Villanova."
After that disappointing year, the only season Villanova did not make either the NIT or the NCAA Tournament under Wright, Hilliard and Pinkston sparked a tremendous turnaround for Villanova basketball.  These two senior leaders are now pivotal members of the nation's sixth ranked team and are poised to lead Villanova on a deep run in the 2015 NCAA Tournament. 
Even with Hilliard and Pinkston rightfully stealing the show on Senior Night, this victory saw significant contributions from every player who stepped on the floor.  A total of five Wildcats finished the game in double-figures to give Villanova the balanced scoring that their stat sheets are known to possess on a nightly basis.
Junior guard Ryan Arcidiacono was the only other starter in double figures for Villanova as he finished the night with 13 points.  Sophomore forward Kris Jenkins and freshman guard Phil Booth added 11 and 10 points off the bench respectively.
As a team, the Wildcats shot 53.2 percent from the field and made 52 percent of their 3-point attempts.  They were 9-of-14 from beyond the arc after halftime on their way to outscoring the Friars 55-36 in the second half to firmly secure the victory.
The show put on by Hilliard and Pinkston will be a tough act to follow, but next season's Senior Night will be headlined by some other stars that have been key to Villanova's success over the last few seasons.  Arcidiacono, forward Daniel Ochefu, and guard Dylan Ennis will be honored next season, as well as the beloved "Bench Mob."
The Wildcats will have a few days to prepare for a tough road test at Xavier on Saturday in Cincinnati that will be followed by a trip to Omaha to take on Creighton on March 3.  The regular season will conclude on March 7 at the Wells Fargo Center, as Villanova will host St. John's in their final game before the Big East Tournament.