Robertson injured as Wildcats win 'Battle of the Blue'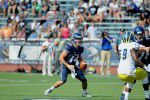 This year's installment of the "Battle of the Blue" couldn't have been any better. It featured a Hollywood ending, and felt a little too real.
Late in the fourth quarter, down 21-14, Walter Payton Award winning quarterback John Robertson carries the ball and runs to his left. He dances around, trying to evade the opposing team trying to take him down, something he has done many times before.
He goes down, but this time he doesn't get back up. He tries, but to no avail. Trainers rush out onto the field and help him off.
Robertson out. Bednarczyk in.
"I wasn't thinking anything really, I just grabbed my helmet and ran onto the field," backup quarterback Zack Bednarczyk said.
Then, on fourth down, Bednarczyk found Kevin Gulyas for what seemingly would be the game-tying touchdown.  Unfortunately for the Wildcats, their kicking woes lingered as kicker Steve Weyler missed the extra point to tie the game at 21.
On the following drive, Villanova was able to stop the ground-and-pound Delaware offense. The Blue Hens powered it up the middle, while quarterback Joe Walker kept the Villanova defense honest with his arm.
Delaware maintained a balanced offensive effort, finding success on the ground and through the air. Walker played a role in this success, as he showed off his ability to run as well as he could throw.
Walker converted a number of third downs for the Blue Hens and showed his power as he bowled over a few defenders whenever he lowered his shoulder. However, this time the defense caught onto his tricks. The Blue Hens defense stalled on fourth down and had to punt the ball away.
Starting on its own 26-yard line, it was up to Bednarczyk to lead the Villanova offense. On the first play of the drive, he showed that he wasn't scared to throw deep. He connected with Gulyas once again, this time for a big 34-yard gain.
A couple of plays later, Bednarczyk displayed wisdom beyond his young Villanova career, converting on an important third down with a pass to Aaron Wells.  Wells took a hard hit, but was able to hang in order to move the chains.
Later in the drive, Bednarczyk placed the exclamation point at the end of an amazing drive as he ran it in for a 21-yard touchdown.
"My two reads weren't there and I saw there was a hole," Bednarczyk said. "So I ran to it and I cutback, and I saw no one was there."
The packed Villanova Stadium erupted in cheers as he made a name for himself in front of all the parents and families in attendance on this Parents' Weekend.
"I don't know if they did [know Bednarczyk could run], but we definitely did," Gulyas said, smiling.
The Blue Hens had one last shot to tie the game, or even steal it away from the Wildcats.  However, the slow moving offense had less than three minutes to 86 yards for a touchdown.
Throughout the whole game, Delaware pieced together long drives that wore out the Villanova defense. The Blue Hens had the luxury of multiple running backs to power it up the middle. There wasn't much time left to be wasted on running the ball. Delaware needed to move the ball, and do it quickly.
The Blue Hens were able to get a couple of first downs. Their offense hit a brick wall as receivers dropped passes and back-to-back sacks by Don Cherry and Reggie Paris created a fourth-and-long situation.
Joe Walker had no choice but to let go of one last heave on a Hail Mary play.  There was no more magic left for the game, as Villanova's Wes Smith picked off the desperate attempt.  The Wildcats came out for one last play, the quarterback kneel.
"I know how big of a rivalry it is," Bednarczyk said. "I could tell with how happy everyone was. It's a big deal."
Wide receiver Kevin Gulyas had a great game, reeling in eight catches for 152 yards and a touchdown. John Robertson completed 14-of-24 pass attempts for 208 yards and one passing touchdown. He also had 11 carries for 23 yards and a rushing touchdown before leaving the game due to injury.
According to head coach Andy Talley, it is a PCL tear but there will be a more definitive answer this Monday after he gets an MRI.
In the mean time, the Battle of the Blue trophy will stay in Villanova.  Zack Bednarczyk is expected to start for Villanova's upcoming Thursday night game.  The Wildcats will take on the Penn Quakers this Thursday at 7 p.m.