Disabilities call for more than one weekend of attention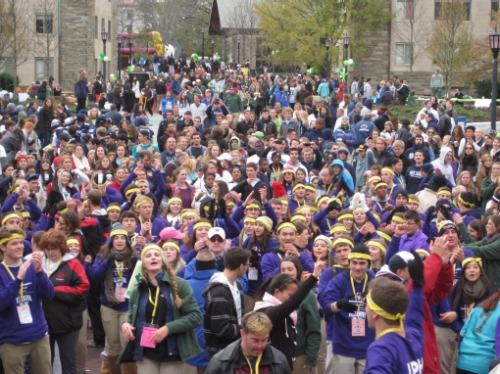 Villanova's Special Olympics Pennsylvania Fall Festival is one of the University's proudest traditions. According to its website, the event attracts over 1,000 athletes, 400 coaches and 4,000 volunteers each year. It has become the largest student-run Special Olympics event in the world—but also remains a largely untapped source of change on Villanova's campus. 
According to the website of LEVEL, a Villanova organization that connects students of all abilities and disabilities "there is a serious lack of understanding on campus and in the world about individuals with intellectual and/or developmental disabilities that has led to unjust differences in the way that people are treated, as well as the opportunities available to them." 
Three days out of every year, Special Olympics manages to transform our entire campus (and several nearby venues) into an ability-affirming haven for athletes from all over Pennsylvania. It's a transformative experience for both athletes and volunteers, and no small feat to pull off. Yet I can't help but feel that Special Olympics, as one of the most visible and influential organizations on campus, does not live up to its potential for supporting people with intellectual and developmental disabilities during the rest of the year.
First, I don't experience much outreach discussing ableism or championing disability rights. There is the annual Disability Panel, which features athletes, Villanova students, faculty and staff talking about their experiences with disabilities, and the "Spread the Word to End the Word" campaign, which discourages the use of the term "retarded," but the outreach seems to stop there. Although the Disability Panel is an important first step in addressing harmful beliefs and attitudes, I feel the "Spread the Word to End the Word" campaign suggests ableism only extends as far as language.
In the words of Briana Taylor ('15), "disability is every day, not a weekend." Discouraging slurs is important, but it doesn't necessarily change the way an able-bodied student views another student in a wheelchair. Nor does it ensure the accessibility of events like formals, to use one of Briana's examples. There are problems facing people with disabilities within the Villanova community, but I don't always see Special Olympics publicizing these issues or advocating for the people they affect. 
Moreover, when it comes to questions of privilege (such as those ableism raises), it's important to question the role the dominant group plays in creating systems that uphold privilege. The Special Olympics Festival focuses solely on the athletes—and rightly so. But when it comes to conversations on campus, there needs to be an emphasis on personal reflection—how you, as an individual without a visible disability, might contribute (however unknowingly) to ableism in our community.
We've already seen the power of Special Olympics' public outreach. On Monday last week, the sheer volume of business Special Olympics directed toward Insomnia Cookies as part of its Restaurant Week fundraiser forced Insomnia to turn people away as early as 10 p.m.—five hours before closing—so it had enough time to fulfill all the existing orders. What would happen if Special Olympics applied this same power to a campus-wide conversation about ableism and disability rights? 
According to the Special Olympics Pennsylvania History page on Villanova's Special Olympics website, the Special Olympics movement has two goals: "to bring intellectual disabilities…into the light of public acceptance and understanding" and "to give all persons with an intellectual disability the opportunity to become useful and productive citizens who are accepted and respected in their communities." If Villanova's Special Olympics is serious about its commitments to these goals outside of the Festival, there are a number of things it could do.
First, it could find a way to expand the conversations the Disabilities Panel begins in order to bring disabilities of all sorts to public awareness throughout the school year. It could reach out to organizations like the Association for Change and Transformation to co-sponsor a Real Talk, or better advertise the events LEVEL hosts on campus. It could start an awareness campaign on social media, or create posters to hang around campus or write a series of op-eds in The Villanovan.  
Second, Special Olympics could more effectively support LEVEL as allies. In social justice circles, allies are members of a dominant group who use their power and privilege to support members of a marginalized group. Being an ally doesn't mean taking charge; it means listening to members of a marginalized group and following their lead. So as an organization that champions respect for people with disabilities, and one that focuses on the abilities of all people, wouldn't it make sense to include members of LEVEL for Special Olympics?
Third, Special Olympics could pick its first-year Local Program Hosts, who form the backbone of its future, with more intention. Applications could ask how prospective LPHs have observed ableism, or interviewers could ask how applicants would contribute to a conversation about disability rights on campus—ensuring LPHs are fully dedicated to the goals of Special Olympics, in addition to being energetic, open and caring.
The good news is that there is support for Special Olympics to take a more active role on campus. Greg Hannah, Assistant Director of Disability Services, says LEVEL and Special Olympics "should come together to talk about what topics, trends and thoughts are out there in our respective fields and how we can come together to address them." Additionally, Rodrigo Rivera, Chair of the Awareness Committee for Special Olympics, stated that two goals for the year are to increase advocacy and contribute to the growth of LEVEL.
But the push for greater awareness needs to come from members of the Villanova community who may not be in positions of leadership. It needs to come from new LPHs, returning Volunteer Coordinators and even the leaders of organizations hosting tables in O-Town. Special Olympics has proven it can transform the campus for a weekend; now it needs to prove it can change the campus throughout the year.