'Cats prepare for season with exhibition win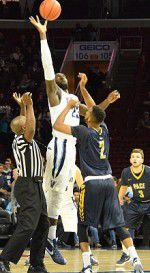 Villanova shook off the rust in its 80-45 exhibition win against the Pace Setters on Sunday at the Wells Fargo Center. 
Between senior Daniel Ochefu's double-double (12 rebounds, 10 points) and freshman Jalen Brunson's 13 points, players of old and new combined for an overall strong showing against the D-II team.
Pace took the lead early on, recording the first five points of the game and 10 of the first 15 rebounds, taking an eight point lead at the 13 minute mark.
"I really didn't think it was so much a slow start on our part as it was us not really knowing what they were going to do," head coach Jay Wright said. "They came out and ran a spread offense – a Princeton style – and they were taking advantage of our bigs by bringing them away from the basket."
Between Pace's new head coach and staff switching up the Setters' playing style from past seasons and new faces donning the Villanova V on their jerseys, the Wildcats took a while to get into their groove.
"They ran an offense that they didn't run last year, but they ran it well, too," Wright said. "We struggled a little bit early, but I liked the way we adjusted to it."
After a Wright-style pep-talk, Ochefu confidently shut down the Pace offense, tying the game a few minutes later. 
A three-pointer from Brunson gave the Wildcats exactly what they needed to keep their momentum going.
"Once Daniel got used to how they were playing, we were good," Wright said. "We took Daniel out there and spoke to him. When he came back in I thought he really got us going and set the tone defensively."
The turn of the game came with a total of 11 points apiece for veterans Josh Hart and Ryan Arcidiacono while sophomore Mikal Bridges and freshman Donte DiVincenzo logged 10 and nine points, respectively, in their debut games. Sophomore Phil Booth added five points and four assists.
"When you have the young guys come in, especially the new freshmen, even though this was just an exhibition game, it's good for them to get their first-game jitters out of the way in a real game situation," Hart said. "It was great to see them get their first points and get out there and have their Villanova jersey on for the first time."
The Wildcats took control of the game with tight defense, producing a 32-6 run over the final 11 minutes of the first half to build a 38-20 advantage at halftime. Pace was unable to cut the deficit below 14 points, and Villanova outrebounded the Setters 36-32 at the close of the game.
"We've been beating each other up in practice just about every day and so now that we're able to come out here and play against a different team in a different venue, it's just a great feeling to be back," Hart said. 
"We need to keep playing hard and working on our rebounding," Hart said. "If we do that, if we play Villanova basketball, we'll be successful regardless of the score."
Brunson, the game's leading scorer, is Villanova's highest-ranked recruit in more than 10 years.
"He's a coach's son," Wright said. "He's almost too good of a kid. He's not as assertive right now. He's acquiescing to a lot of the upperclassmen, which is OK. But he'll get it. I like when we see him aggressive."
We can expect him to be on the starting lineup again alongside fellow guards Arcidiacono and Hart.
"I had a great time, but at the same time it's business, too," Brunson said. "I have fun, but I have to get better and keep working hard to do what I want to do."
The Wildcats have a long way until their first Big East matchup against Providence in January at the Wells Fargo Center, but Wright is already preparing for the future.
"We try to get some practices down here when we can, because the games we play here are always big games against really good teams," Wright said. "Guys like Jalen and Donte, they've never played here, so you don't want the first [Big East] game against Providence to be the first game they play here."
Otherwise, the Wildcats are approaching their schedule one game at a time.
"Every season is a new fresh season no matter what happened the year before," Wright said. "It's good to get it going again. For basketball people, this is when you feel comfortable – in season. You know what to do. So we're all back into our rhythm, which is pretty cool."
The Wildcats open the 2015-16 regular season on Friday night at 7 p.m. when Fairleigh-Dickinson comes to the Pavilion.