'Nova alumni excelling as executives in 76ers front office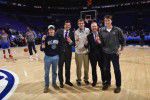 There is a popular saying around campus that was started by Jay Wright and can be applied to all who are a part of Villanova: "Once a Wildcat, always a Wildcat." 
Chris Heck, the current Chief Revenue Officer of the Philadelphia 76ers, is a perfect example of how that quote applies to everyday life. Heck not only is a Villanova alumnus himself, but he also managed Villanova athletics' corporate partnerships before working for the National Basketball Association. 
Even though he is no longer on Villanova's campus everyday, he is constantly reminded of his college roots. 
"The first person I met at Villanova on orientation, even before the first day of school was [current 76ers CEO] Scott O'Neil," stated Heck. The friendship between Heck and O'Neil is an incredible story that now has them reunited in the professional world.
However, O'Neil is not the only former Wildcat to have made an impact on Heck in the professional world. 
"It has been literally dozens of people that I've worked with throughout my career that are Villanovans," he said. "We have a special bond in the sports industry."
Heck credits a lot of the success behind the bond between Villanova students and alumni to the foundation of the Villanova community. He constantly acknowledged the unique communication that takes place between members of the Villanova family. 
"I never felt lost at Villanova," Heck said. "I always felt connected with people not only while I was a student, but afterwards as well. I think that Villanova set the tone in my life to have a collaborative attitude and work ethic." 
Heck stressed the importance of culture in the workplace. In the world of sports where wins and losses are so important to the public, there is so much more than what meets the eye. One might think that working for an organization that has not experienced much success on the court recently, such as the Sixers, could be strenuous. However, the Sixers organization is one of the most successful and enjoyable places to work. Upon speaking about this success, Heck recognized the culture of the organization. 
"We have an incredible culture here." Heck explained. "Scott and I are not the only Villanovans on staff. There are quite a few of us. There is incredible enthusiasm and energy." 
"It's not easy [working in the world of sports]," continued Heck. "But it's fun. I guarantee you anyone who walks through the doors here will have a smile on their face because of the energy and the buzz that's going on at the Sixers' offices." In such a stressful industry where winning is so important, the Sixers find a way to make going to work fun everyday for their employees. 
Heck touched on how lucky he truly is to be working for such an incredible organization. He has worked in many different areas of the world of sports, including working with the New York Red Bulls as their President of Business Operations. He said the key to finding a job one likes in the world of sports, or the business world in general, is experience. 
"An approach to take is get the most opportunities in the real world and in businesses as possible," stated Heck when asked what the most important thing about entering the working world was. 
He also acknowledged how different everyone is as individuals. "[After experiencing the working world] I would then decide what is the right path for you as an individual," he said.
Throughout the conversation, Heck gave an ample amount of great advice to those entering into the work force. However, he had one piece of advice that should make 'Nova Nation fans across the country extremely happy: "I would never bet against Jay Wright and his staff." 
Heck continued his praise of the Villanova basketball program, as well as expressing his excitement for the upcoming season. 
"Nothing is too small for Villanova basketball," he said. "They are an established group and they are a special talent. I believe this will be the most successful senior class in the history of Villanova basketball." 
Heck mentioned how having such a great basketball program unites the alumni and keeps alumni, such as himself, up to date with what is going on with not only the team, but the university as a whole. 
After giving his take on the much-hyped basketball team this season, Heck wanted to offer up one last piece of advice for all Villanova students. 
"Don't be afraid to reach out to Villanova alumni," Heck said. "Don't be afraid to ask where opportunities are. I would say don't hold back, go all in, and don't be afraid to ask for help.
"Villanova alumni want to help Villanovans. It's a real sense of pride and quite frankly we take it as our commitment to the school and to the community to look out for one another." Seeing such a successful businessman like Heck reflect on his roots is a testament to how unique of a connection members of the Villanova family have with each other.  
From his constant interaction with Villanova students to now working with one of his best friends from college, Heck is the perfect example of "Once a Wildcat, always a Wildcat."