Wildcats move to 3-0 in Big East play, defeat Seton Hall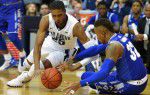 The Villanova Wildcats (13-2) improved to 3-0 in Big East play this season with a 72-63 victory at home over the Seton Hall Pirates (12-3) on Wednesday night. Senior center Daniel Ochefu led the way with a double-double, compiling 20 points and 18 rebounds in the game.
On a night when the offense struggled, it was Villanova's defense that proved to be the difference maker in the game. The Wildcats held Seton Hall to 35 percent shooting from the field, had eight steals, and forced the Pirates into 12 turnovers on the night.
While Villanova may have struggled offensively for most of the game, the 'Cats were able to stay aggressive and get to the free throw line all night. Villanova finished the game 26-of-32 (81%) from the charity stripe.
Along with Ochefu's monstrous performance, junior guard Josh Hart posted a double-double of his own with 15 points and 10 rebounds in the contest. Senior guard Ryan Arcidiacono and junior forward Kris Jenkins each dropped in 11 points as well on Wednesday night.
The 'Cats also outrebounded Seton Hall 47-39 in the contest.
The Pirates were led by sophomore guard Isaiah Whitehead's 20 points and fellow sophomore backcourt mate Khadeen Carrington's 14 points.
The Wildcats finished the game shooting 36 percent from the field and 18 percent from beyond the arc. If someone was to hear those offensive numbers and nothing more about the game, most would have believed Villanova got blown out by Seton Hall. However, the win most importantly showed that this year's Villanova team can find ways to win when shots aren't falling. That's a big sign of improvement for a team which is routinely accused of living and dying by the three-point shot.
Wednesday night's loss was the first for Seton Hall in the Big East this season after picking up wins over Marquette and DePaul to open up conference play. If Seton Hall can continue to play at a high level in the Big East and keep players out of trouble off the court, the Pirates could certainly be a tournament team in March.
Next up for the Wildcats is a big road test at the No. 18 Butler Bulldogs this Sunday night at 7:30. Despite dropping their first two conference games of the season to Providence and Xavier, the Bulldogs bounced back with a win over DePaul earlier this week. Sunday's game at Butler can be seen on Fox Sports 1.