Cats' paint attack leading to easy baskets, easy wins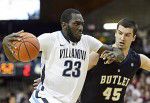 Villanova head coach Jay Wright is well aware of the difficulties that come with playing in the Big East. Following the Wildcats' 55-50 slugfest of a win over rival Georgetown on Saturday afternoon, Wright noted that the conference was arguably as tough as it has ever been.
"This league is really good," Wright said. "It's always going to be different, but night in and night out it's starting to approach the old Big East."
Yet, despite the constantly increasing challenge presented by the "new" Big East, 'Nova has continued to remain above its competition.  As of Sunday, the Wildcats are 38-4 in regular season Big East play since the conference realigned in 2013 and haven't lost such a game since last January. That is 21 in a row, should you include postseason play. They have won two regular season titles and last year's Big East tournament championship over that span, hardware that no other team can match. 
The second most successful program in the conference during that stretch, Providence, may have won the 2014 Big East Tournament, but it has also only won 24 of 41 Big East regular season games. That puts the Friars 13.5 games behind the Wildcats. 
'Nova's 6-0 start in Big East play is its best since 2009-10 season, when the Wildcats ripped off nine straight victories before losing to the Hoyas on the road. What is most interesting about this streak, however, is how Villanova has made subtle adjustments to its offensive game plan in order to keep its spot as the conference's alpha dog.
For instance, the Wildcats have significantly cut back on attempts from behind the arc. Entering conference play, Villanova was one of the most trigger-happy teams in the country from beyond the arc. Nearly half (49.5 percent) of 'Nova's shots came from downtown, even though it was only converting at a 30.9 percent clip. 
The Wildcats are still struggling from three-point range (they are shooting 31.9 percent over their last six games, including 3-18 against Georgetown), but they have made an effort to take more efficient shots. Over their last six games, only 37.1 percent of their attempts have been threes. 
By driving to the rim and seeking out shots closer to the basket, Villanova has managed to do two things: First, they are taking advantage of their stellar two-point shooting. The Wildcats are second in the nation in field goal percentage on shots taken inside the arc, a number that makes the amount of three pointers they were attempting early on in the season only more perplexing. 
This high efficiency attack was on display during 'Nova's January 2nd victory over Creighton. The 'Cats shot 68 percent from the field in that game, including 28-32 on two pointers (87.5 percent). According to Ken Pomeroy of KenPom.com, that was the best two point percentage in eight years. The Wildcats only made one-third of their threes in that game but attacked the rim and used terrific ball movement to generate open looks and easy shots. 
Additionally, Villanova's adjusted approach has led to a bump in trips to the charity stripe. According to KenPom.com, the Wildcats' free throw rate (FT/FGA) this season ranks 266th in the nation at 32.6 percent. However, over their first six conference games, that number has risen to 38.6 percent, which would rank in the top half of the country. While the 'Cats are unlikely to ever reach the levels they did in 2013, when their 50.6 FT/FGA ranked first in all of college basketball, their renewed commitment generating high percentage looks near the hoop is at worst leading to added opportunities from the foul line and at best providing a boon to the offense that was sorely missed in the season's early stages.
This is an increasing sign, as it means the Wildcats are developing a Plan B on offense. In its first loss of the season, to No. 2 Oklahoma, Villanova could not find the range from behind the arc and failed to adapt to the situation at hand. The result? A 23-point loss to one of the best teams in the nation. 
In conference play, the Wildcats have made an effort to work to their strengths, giving them a contingency plan for when the shots are not falling. When they get hot from deep, like in their conference opener against Xavier, they can blow away quality teams with ease. When they struggle to score like they did against Georgetown, however, they are willing to try other options instead of simply "sleeping in the streets." 
Villanova is changing with every game this season, but so far its reign over the Big East has remained the same. 
If the Wildcats continue to evolve into a dynamic, multi-faceted force on offense to complement their stifling defense, another conference coronation in March is all but inevitable.