Refreshed 'Cats look to renew Big East win-streak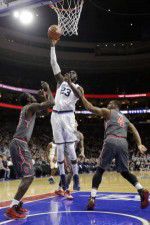 Coming off a tough defeat against Providence this past Sunday at the Wells Fargo Center, No. 6 Villanova (17-3) has turned its attention to a pair of conference matchups over the next week. 
After a week off, the Wildcats will look to return to their winning ways when they take on St. John's (7-12) at Madison Square Garden this Sunday afternoon. Tip-off on Sunday is scheduled for noon and can be seen on FOX. 
Having yet to win a game in the Big East this season, the Johnnies are going through a complete program rebuild. Hiring St. John's legend and NBA Hall of Famer Chris Mullin as their new head coach, the Johnnies are hopeful Mullin is the man to return the Red Storm to the top of the Big East and to national prominence.
St. John's believes that Mullin, who was born and raised in New York City, is the right guy to recruit high school basketball stars from the Big Apple to stay home. One of the main reasons for St. John's decline as a college basketball powerhouse has been the inability to keep local talent in New York City. 
Instead of staying home to play college basketball, most of the Big Apple's best have taken their talents elsewhere. Villanova is just one of many elite college basketball programs that has put a significant dent into the Johnnies' recruiting pool. 
While the future looks bright for St. John's, the present is not so splendid. Freshman big man Yankuba Sima has been out over a month with a broken hand, while the Johnnies have suffered humiliating defeats to both Incarnate Word and NJIT. The lone bright spot for the Red Storm this season has been its victory over longtime rival and former Big East foe Syracuse. Otherwise, it has been a long season for the Johnnies.
With no hopes of playing beyond the Big East Tournament this season, the Red Storm are strictly playing for pride. Despite the fact that St. John's has yet to win a conference game, the Johnnies play hard every game for Mullin. 
Freshman point guard Federico Mussini, the team's leading scorer with nearly 13 points per game, is the man who sets the tone for the Johnnies. 
Sunday afternoon's game should be a victory for the Wildcats, but it would be unwise for Villanova to overlook St. John's at the World's Most Famous Arena. A win over a nationally-ranked conference rival would be a huge boost to a St. John's program and Mullin's growing brand.
After St. John's this upcoming Sunday, the Wildcats will return home for a rematch with the Creighton Bluejays (13-6) next Wednesday night at the Pavilion. Tip-off is scheduled for 8 p.m.
In their first matchup earlier this season, Villanova clawed past Creighton 85-71 in Omaha. The Wildcats shot a blistering 68 percent from the field in the contest, with junior guard Josh Hart leading the way with 25 points on 10-of-14 shooting. Senior big man Daniel Ochefu poured in 19 points on 9-of-10 shooting, senior guard Ryan Arcidiacono finished with 10 points, and freshman guard Jalen Brunson added 15 points.  
The key to Villanova's win over Creighton was the Wildcats' ability to create good, high percentage shots in the paint rather than just settle for 3-pointers. This will once again need to be a primary area of focus for the 'Cats.
Standing at 4-2 in the Big East, the Bluejays are doing better than many expected them to this season. One of the reasons for Creighton's unexpected success so far has been its' efficient offensive attack. 
Junior guard Maurice Watson Jr., a Philadelphia native, leads the team with just under 14 points and seven assists per game. Senior center Geoffrey Groselle is Creighton's anchor down low, leading the team in both rebounds and blocked shots. 
Next Wednesday night's game against Creighton should be a win for the Wildcats. But like St. John's, Creighton plays hard every game for head coach Greg McDermott and cannot be overlooked.