Fountain of Youth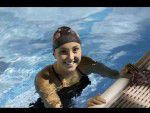 "See? That was painless," chuckles head swimming coach Rick Simpson.  
One of his most talented young swimmers, Darby Goodwin, smiles timidly after finishing up an interview in his office. 
Hidden behind her shy demeanor, however, is a tenacious athlete breaking school records and commanding attention as a freshman.
Goodwin, a native of Jupiter, Fla., got her start in swimming by following in the footsteps of her older sister.
"I wanted to do everything she did," admits Goodwin.  
When her older sister joined the recreational swim team after encouragement from their mother, a former swimmer at LaSalle, Darby could not help but do the same.
More than ten years after her start, Goodwin made the decision to continue her love for the sport at the collegiate level.  
Villanova's program caught her eye, specifically because of "the balance Villanova has between academics and athletics," she mentions.  
"There's also a really unique sense of community here," Goodwin said. "On my recruting trip, I just really clicked with the team and the coaches."
The interest was certainly mutual, as Simpson saw Goodwin as a blossoming talent full of potential as a Wildcat.  His close relationship with Goodwin's club coach made the decision to recruit her to join Villanova an easy one.
"He's one of those club coaches that when he promotes an athlete, you know that you want to pay attention," explains Simpson. "You know the athlete's going to be well-prepared."
Goodwin was most definitely well-prepared, as she made her presence known in her college debut.  
Competing against her mother's alma mater, LaSalle, she ended the day with her first career win in the 100 butterfly and a second place finish by a margin of 18 hundredths of a second in the 100 freestyle.
With such success in her first meet, it seems as if Goodwin has transitioned seamlessly into the college swimming scene. It is easy to forget that she was only a high school senior a mere five months prior.
"It's way different than high school, especially because I'm from a really small school and my team only had five people," Goodwin points out. "I was really nervous going into the first meet." 
Goodwin's performance against LaSalle and the following UConn meet earned her Big East Swimmer of the Week accolades.  Since then, she has received the award two more times.
"It's really such an honor.  I never knew they did a swimmer of the week until I got it for the first time," she quietly admits, evoking a small giggle from Simpson as he works at his computer.
Goodwin's dominance as a freshman has been most clearly marked by her performance at the Princeton Big Al Open before winter break, Dec. 4-6.  
"We knew going into it, she was going to have her hands full," Simpson said. "She was going against upperclassmen athletes that are very experienced at a high level."
Darby handled those upperclassmen magnificently— and in record-breaking fashion.  
She broke fellow teammate Gabby Daigneault's 100-backstroke record in the 400 medley with a time of 55.20 seconds.  Goodwin went on to break her own record twice more that weekend with a final time of 54.69, becoming the first Villanova woman to swim it in under 55 seconds.
Perhaps her most notable success so far, Darby also broke the record for the 200 backstroke that weekend. She upended the record that had stood for 18 years with a time of 1:58:90.
Coach Simpson acknowledges how commendable Goodwin's accomplishments are, especially considering her age.
"Her ability to drop the rest of the field and surge ahead says a lot," he comments. "When you see a freshman respond in that way, you know you're dealing with something pretty special."
Goodwin's bright future of possibilities still doesn't change her quiet, humble focus.  For someone who could look far into the future and dream of lofty success, she remains concentrated on the near future and contributing to the team.
"I just want to be as fast as possible to help the team out in the relays and to help win the [Big East] title," Goodwin said. 
That's a veteran sense of humility for a freshman.
Coach Simpson, however, provides some insight into her role in the program for the remainder of her four years.  In a freshman class of talent and potential leaders, he recognizes her specific style of leadership.
"Certainly her leadership is going to come from what she does in the pool," Simpson said.  "She's a relatively modest person, and she's not loud and in-your face.  She sets the tone for all the other athletes around her in training."
When asked how she wanted to be remembered at the end of her four years, Goodwin's eyes twinkled as she recalled the images of Maddy Crippen and Erin Malone in the swimming Hall of Fame. 
 Malone graduated in 2013, having won championships and leaving broken records in her wake. Crippen, an '02 grad, went on to compete in the 2000 Summer Olympics.
 "They're just really fast swimmers that could perform spectacularly," says Goodwin, "so I think to be remembered with those people would be an honor."
Villanova is certainly in for a treat watching Goodwin and the rest of the freshman class mature over the next few years.  
Perhaps Simpson captures Goodwin's potential most fully, saying,"It's great that she broke records, but that's just scratching the surface."