Piccirillo's legendary performance fuels Wildcats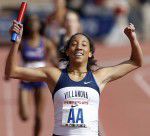 The Villanova Women's Track and Field team has a long history of excellence. The team won the 2015 Big East Championships and has produced Olympians like Sheila Reid, Vicky Huber and Sonia O'Sullivan. Last weekend, at the Great Dane Classic, one more athlete's name was added to the list of Villanova greats. 
Angel Piccirillo ran the second fastest 1,000 meters in school history, shaving a full three seconds off her previous personal best. Piccirillo posted a time of 2:43.04 to pace a field of 34 runners and finish six seconds ahead of the rest of the runners. Piccirillo's time was the fastest by a Wildcat runner since current Head Coach Gina Procaccio set the school record with a 2:42.68 in the preliminary heats at the NCAA Championships in Oklahoma City on March 13, 1987. 
Piccirillo seemed to surprise herself by posting such a great time. "I was not sure what to expect going into it because it was the first race of the season, and I have been doing a lot of the training prior to this race at home because of Christmas break," Piccirillo said. "It felt good and I ran a little faster than I was expecting to, so that was a pleasant surprise."
Clearly, Piccirillo's hard work and dedication are paying off. However, she isn't quite satisfied with just one good performance. "I have more work to do and I know that if I continue working like I have been and enjoying the process, I will be able to get where I want to be," Piccirillo said. "There is a little more pressure on the next two seasons just because I am a senior now and I only have one more chance to achieve some of my goals, but that also makes it more exciting."
As a senior with just two seasons left, winter and spring, Piccirillo also has big expectations for her team as a whole. Despite not running in the NYC Gotham Cup this past weekend, she had plenty of high hopes for her teammates who were competing. "I think the team is just getting warmed up. The season has just begun, and we are excited about where we are going," Piccirillo said. "As a team, I want us to have more athletes competing at the national level and once again defend our conference championship wins."
As a senior with a lot of success and experience under her belt, Piccirillo knows what she wants to achieve this season, individually and as a team. Her determination to reach these goals is what has helped her achieve the level of excellence Villanova expects from its athletes. Piccirillo said she is "looking forward to running faster than ever before and improving [her] previous place at the national meet." 
Piccirillo previously finished seventh at nationals individually. However, she hopes to be "top 3 at some point this year, whether indoors, outdoors or preferably both, and achieve personal best marks." Her primary focus for the rest of the winter and remaining spring seasons will be the mile, the 1500M and the 800M.
As she faces the final two seasons of her career at Villanova, Piccirillo also wants to leave a legacy of which she can be proud. She said "I hope that I am remembered as someone who was willing to help teammates and as someone who was not afraid of hard work to achieve success." 
Piccirillo also commented on the fact that she wants to make the program better for her younger teammates. "I am hoping to leave this program better than I found it and give the younger members of the team someone to look up to, just as the upper-classmen did for me when I was a freshman."
Looking back on all of her accomplishments and the challenges along the way, Piccirillo identified the Penn Relays as one of the best Villanova Track and Field moment. "My favorite track memories are all at the Penn Relays," Piccirillo said. "This meet is so important to our school…so it is always an unforgettable experience to win there." Piccirillo has been fortunate enough to understand this experience fully, having won at Penn Relays multiple times. 
Despite being unsure of what life after graduation will hold, Piccirillo definitely has a successful season ahead of her, and her determination to make this season her best yet has set the standard for all her teammates thus far.