'Nova Tennis players react to Australian Open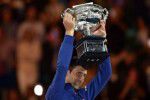 Tennis might be the only sport that will see opposing players connect on such an individual level with grace, respect and genuine happiness for one another. 
As talk of potential match-fixing within the sport spread during the Australian Open, the "Happy Slam" managed to bring the sport back into positive light, particularly after its championship matches. 
Novak Djokovic of Serbia successfully reached for his record sixth Australian Open title defeating the Scot Andy Murray, while Germany's Angelique Kerber won her maiden Grand Slam title with a victory over world No. 1 American Serena Williams.
The first Grand Slam of the year began somberly, as allegations of match-fixing within the sport of tennis made headlines above the opening day matches of the tournament. 
The uneasy feelings about such serious corruption in a seemingly "clean" sport remained on many people's minds throughout the fortnight.  
The reports were done by The BBC and Buzzfeed, and they asserted that 16 players, all ranked within the top 50 (at some point or another) had played in matches that have been linked to suspicious betting patterns. 
Furthermore, tennis' regulators have not acted on the information presented. The regulators responded by stating there has not been new evidence presented. 
World No. 3 Roger Federer talked about the ambiguity of the reports at one of his press conferences, "It's like who? What? It's like thrown around, it's so easy to do that. I would love to hear names. 
Then at least it's concrete stuff. Was it a player? Was it a support team? Who was it? Was it before? Was it a doubles player, was it a singles player? Which Slam? It's so all over the place."
However, more concrete accusations came to surface over the past two weeks. 
After a doubles match experienced an unexpected betting plunge, the players involved were all interviewed by the Tennis Integrity Unit, but had not noticed anything unusual or suspicious. 
More seriously, on the same day Nick Lukas Linhdal, a former top 200 player, faced charges for tanking a match back in 2013. 
The Tennis Integrity Unit decided that it will have an open-ended deadline and budget and its findings will all be made public. 
The fact that tennis officials were taking this seriously definitely aided in bringing the sport back into positive light. However, sometimes it is up to the faces of the sport to restore its image, and this year's champions did not disappoint.
Djokovic is now 6-0 in Australian Open finals and has won 11 Grand Slam titles, tying all-time great Rod Laver and Roy Emerson. He is also now the man with the most Aussie Open trophies. 
His rival, Andy Murray is now 0-5 in the AO finals, and four of these losses were to Djokovic. Djokovic, who beat Murray won 6-1, 7-5, 7-6 (3). 
Like in the semifinal against Roger Federer, Djokovic came out hitting the ball forcefully and accurately. 
He hit his famous backhand steadily, and mixed up his games with drop shots and down-the-the line forehand winners. 
Murray tried to do similarly, even going for everything on his second serves, but Novak anticipated all. 
He even caught Andy off guard by hitting his second serve up the T, instead of his standard wide second serve. 
The second set was much more competitive and finally looked like a typical match between the two players. Rallies were much longer, as both defended effectively. 
Multiple service breaks shifted the momentum. At 5-5, 40-0 Murray missed an easy backhand to make it 40-15.
 Still up, it should have been an easy hold for the Scot, but Djokovic followed with a several winners, one coming after a 36-shot rally. 
He only needed one break point to give himself the 6-5 on serve advantage. Despite double faulting twice in the closing game, Djokovic still managed to hold and give himself a 2-0 advantage in sets.  
The third set was just as competitive, showing that Murray can be mentally strong even if he is down two sets to love to world No. 1 at his favorite court – Rod Laver Arena. 
However, Djokovic got to a very quick start in the tiebreak, eventually getting his first championship point at 6-1, ultimately winning 7-3. 
Djokovic has now won three out of the last four Grand Slams and is hoping to win a career Grand Slam by winning the French Open in 2016. 
Christopher Seitz, senior tennis player at Villanova, asserted Djokovic's dominance. 
"He has reached 16 consecutive finals now, which just shows how consistent he is and how mentally tough he is," Seitz said. "He can beat any player on the tour, at any time even if he might not be playing his best on that particular day."
"Right now, I don't think anyone can beat Novak if it's best three out of five sets, just because he is so fit and mentally tough," Seitz said.
But what makes a tennis champion a champion goes beyond his/her game demeanor – it continues off the court. 
Djokovic's celebration was reserved and graceful, as an ode to his opponent, who had been having a rough two weeks. 
Most notably, Murray's pregnant wife, Kim, is due with their first child at any moment. Djokovic wished Murray and his wife all the best during his acceptance speech and hoped his opponent experienced the same joy as he did when his son, Stefan, was born. 
The men showed nothing but praise toward one another and wished each other all the best. 
They both also thanked the legends of tennis that came out to support them, while earlier, Djokovic even took some time off from his usual routine, and stopped by the men's quad wheelchair singles match, and cheered as Dylan Alcott of Australia defeated David Wagner of the U.S. 6-2, 6-2, showing how much of an inclusive community the tennis world can be. 
On the women's side, Angelique Kerber of Germany stunned the favorite Serena Williams, winning 6-4, 3-6, 6-4. 
In the first set, Williams was missing routine shots and made 23 unforced errors, while Kerber kept a stable head and a stable game, making only three unforced errors in the set. 
Williams also struggled at the net, and won only 15 of 32 points. Kerber's defense and persistence was paying off, as she was forcing Williams to play that extra shot each time. 
Kerber did not let a second set loss crush her spirits and rushed to a 5-2 lead in the final set. Even though Serena was able to come back on serve at 5-4, Kerber knew she had to outlast the 21-time Grand Slam champion. 
Kerber only needed one championship and break point to win her first Australian Open title, as Williams charged to net, only to hit a volley long. 
Kerber's win was very impressive, as Williams is always the heavy favorite in every match she plays. 
One has tremendous respect when playing Williams, but Williams also shows tremendous respect to her opponents.
The following words show that despite the various corruption allegations within tennis, it continues to be the sport of genuine mutual appreciation and respect.  
After the match Williams stated, "She [Kerber] played so well today. She had an attitude that I think a lot of people can learn from: just to always stay positive and to never give up. I was really inspired by that." 
To hear that players inspire one another on the court when playing against each other is, well, inspiring. 
These players wish to grow, and they wish to learn from themselves. 
They will not brag about being better than the other, because they realize they can learn from all of their opponents. 
There is no limitation on knowledge, persistence, and determination.
College athletes and young tennis players around the world gain their own inspiration from the great champions. 
Villanova's senior, Seitz, added, "You have to admire their fitness levels and desires to compete at such a high level for 11 months out of the year."
"It helps me stay motivated to play especially when watching Federer because even though he is 34 years old, he is still No. 3 in the world and truly loves the game," Seitz said. 
"I think making tennis fun and enjoyable has helped me play longer and compete at a higher level." Seitz added. "I enjoy the sport now more than ever and it will be sad when I have to graduate this spring." 
Tennis may be facing some difficult trials, but there are always players out there that embrace the sport's grace. 
As long as the sport has humble and driven champions, it will keep attracting audiences around the world, especially those from Villanova.