Daniel Ochefu's career-high inspires Wildcat victory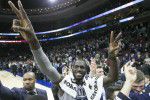 On one of the coldest days in South Philadelphia, Villanova came home in front of a large crowd at Wells Fargo Center to take on St. Johns after receiving the No. 1 ranking in the AP and Coaches Polls. Chris Mullin and his squad wanted revenge after a previous blowout in their last meeting in Madison Square Garden back in January, but couldn't come away with a victory. Villanova won 73-63 behind Daniel Ochefu's career-high 25 points.
The first half was very entertaining as both teams played really tough defense by forcing a total of 14 turnovers (7 for each team). Villanova would have 12 points off of seven turnovers and force a 10 second half court violation, and St. Johns managed to force a 30 second shot clock violation on their defensive side of the floor. Particularly, St. John's made Nova's three-point shooting as cold as the weather outside of the Wells fargo Center as Villanova was 0/8 from behind the arc.
"Some of them were contested, and some of them they just missed" Mullin said after the game as to why he was able to disrupt Villanova's 3-point shooting. 
Jalen Brunson and Daniel Ochefu were attacking early in the first half, as Brunson was driving to the lane for lay-ups and Ochefu working hard in the paint. He had 10 points in the first half to lead all Villanova players. Villanova oustcored St. Johns in the pain 16-8. Yet by halftime, the score at halftime was 24-17 with nova having the Free throw advantage, making 6/6 and St. Johns 2/9.  
In the second half Daniel Ochefu picked up where he left off, including a break away Dunk to get the crowd back into the game. Archidacano would make the first Villanova three-pointer two minutes into the second half as well. The momentum was short lived as Amar Alibegovic of St. Johns answered with a 3 pointer.  
By the 14 minute mark in the second half, Ochefu slammed it home to add his career night. Villanova would play tough Defense down the stretch, forcing more turnovers and having MIkel Bridges improving hid mid-range game with a 12-15 foot baseline jumper and Archidiacano making another 3 pointer to extend the Cats' lead to 11, 51-40.  Villanova owning the boards was key for the "cats in that stretch, having 22 rebounds and 10 assists by the 12 minute mark in the game so far. It seemed that every time Villanova would try to put the game away, St. John's would come back with an answer.
With 6:15 left in the second half, Archiadacano would hit his third three-pointer of the game to make the score 60-47, and Alibegovic answered with a lay up to keep the deficit to 11 (who would finish the game with 18 points). Then Ryan stole a pass for a lay up at the 5 minute mark to extend the lead to 14, and St. Johns would answer with a 20 foot jumper to keep the deficit to 12.  At the 4:48 mark, St. John's made two free throws to make the score 64-54, but as the trend of the game was going, Kris Jenkins made a jumper to extend the 'Cats lead to 12.  
St. John's cut the lead to 8 with 2:40 left when Malik Ellinson hit a thre-pointer to make the score 66-58. After two made free throws by Josh Hart, Villanova would continue to play tough Defense, crashing the glass as soon as the first St. John's shot was released. Ochefu made a lay up with 1:59  left to score his career-high 25 points of the game.  At that point, despite the effort from Chris Mullin's young squad, the more experienced Wildcats would find a way to win. Archidiacano would finish the game with 13 points in addition to Ochefu's 25. 
"We were just playing off of our concepts" Ochefu said at the end of the game, as Villanova's offense was clicking on their inside game.
Jay Wright emphasized that defensive rebounding was key and the "value of taking care of the basketball has been a problem" all year for his veteran squad.
Head Coach and Hall-of-Famer Chris Mullin admitted that he played a little bit of box-and-1 defense on Archidiacano in order to "… try and change the game up and get (Villanova) out of rhythm".
Mullin admitted that he "loves the 3-ball" and believes it's "important to have it (3-point shooting) to balance out the game plan".   
Villanova takes a break from the Big East and tries to win another consecutive Big 5 Championship when they take on Fran Dunphy and the Temple Owls on Wednesday night. Temple is coming off a big win against UConn, coming back from a 12-point deficit to defeat the Huskies at the Liacorus Center last week. With ESPN's Rivalry Week starting Monday, there's nothing better than Big 5 Basketball in the City of Brotherly Love.