Pethokoukis honored for courage in the face of adversity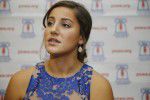 Two years later, Gabby Pethokoukis stands poised at a podium in the Crowne Plaza in Cherry Hill, N.J., accepting an award that closes the final door on her college athletic career.  
Two years later, she looks forward to a future beyond Villanova with a wealth of possibilities and plans.
Two years later, she is cancer free.
The Most Courageous Athlete Award is the defining honor at the 112th Annual Philadelphia Sportswriters' Association Dinner, and the plaque was inscribed with Pethokoukis' name.  
The senior volleyball player earned the title for her inspiring response to a diagnosis of Burkitt's lymphoma in February 2014. Not only did she overcome the disease, but she also returned to the court for her final season with record-setting performances.
Pethokoukis recalls the news that turned her world upside down with a lingering sense of disbelief.
"When I found out that day, it was kind of out of left field," she comments. "This wasn't even in the realm of things that I thought could happen."
A bout of mononucleosis as a freshman had Pethokoukis convinced it was only a recurrence, or perhaps tonsillitis. The biopsy of the lump in her throat, however, indicated otherwise.
Pethokoukis' rare form of non-Hodgkin's lymphoma required aggressive treatment. She was flown home to Chicago only two days after discovering the news.
Before leaving, though, Pethokoukis and the team were comforted by the words of Associate Athletic Director Rev. Rob Hagan, O.S.A. 
"Father Rob was really key for us," says head women's volleyball coach Josh Steinbach. "He talked to Gabby personally and then to the team, and that helped us keep our wits about us."
With Father Rob's inspiring words and a wealth of support behind her, Pethokoukis spent the spring semester of her sophomore year at home receiving aggressive chemotherapy treatments.  
Visits from teammates Anna Dwyer and Brittany Rembert, cards from Rev. Peter M. Donahue, O.S.A, Ph.D. and FaceTime sessions with the entire team kept Pethokoukis connected to the Villanova community 750 miles away.
Even after being pronounced cancer free on June 23, 2014, Pethokoukis faced several challenges in her every day life and volleyball career. As a result, she sat out the 2014 season to regain her strength.
"I had a long ways to go both physically and mentally to even just feel normal again," Pethokoukis mentioned. "It was tough seeing [the team] working hard while I couldn't keep up, but they made sure to keep me involved."
Pethokoukis' patience soon paid off, however.  She returned to the court a year later in the first game of the 2015 season at Stony Brook.
"I was definitely nervous because it had been over a year since I was back on the court competing at that level," Pethokoukis admitted, "but I was really just excited to contribute to the team again."
In her first match since the diagnosis, Pethokoukis recorded eight kills and led the team with four blocks.  
"When she got introduced in her first game back," Steinbach recalls, "I just felt the emotion hit me of all that we had been through."
After stepping back onto the court last fall, Pethokoukis never looked back.
She helped lead the Wildcats to their most successful season since 1993, capping off a 25-win year with a trip to the Big East conference final game and an NCAA tournament berth.
Pethokoukis fortified the team's defense at the net with 127 blocks— enough to rank her sixth in single-season blocks and ninth in career blocks in Villanova history. She also tallied 265 kills as a senior and posted a team-best .316 attacking percentage.  
These numbers would be impressive for anyone, but Pethokoukis' battle to return for one last season makes them remarkable. Her commendable efforts were recognized by All-Big East Second Team honors.
As if that acknowledgment wasn't enough, Pethokoukis capped her final appearance as a Wildcat by traveling to Penn State for the NCAA tournament. 
"Honestly, it was surreal," she reminisced. " Ever since freshman year, we've strived to get to that point. And to get there after everything that had happened was amazing."
Pethokoukis' Villanova volleyball saga came to a perfect conclusion last week with the Most Courageous Athlete Award. An extraordinary story deserves equally impressive recognition.
Pethokoukis joins track star Frances Koons as the two most recent Villanova winners.
Koons was diagnosed with kidney cancer in 2007, but she fought back to return to the track in pristine shape for her senior campaign. She concluded her career as a nine-time Big East champion and All-American.
The similarities between Pethokoukis and Koons are as eerie as they are inspiring. Their stories serve as encouragement for so many others facing difficulties.
"People who have struggles want to look to somebody who's gone through the same thing," says Steinbach, "and [Gabby] is certainly embracing that role."
With her mark clearly left on Villanova, Pethokoukis prepares to move into the next stage of her life. Whether it includes graduate school to pursue an M.B.A. or a job in finance, she is just excited to take on the possibilities.
Two years later, Gabby Pethokoukis has proven what a competitor she is in the face of any challenge.