Versatility key for Jenkins' steady improvement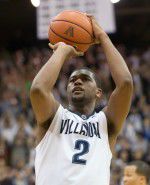 In his first two seasons at Villanova, Kris Jenkins was an important role player for the Wildcats. Now, in his third season, he has become a staple in Jay Wright's starting lineup and one of the team's most valuable offensive weapons.
Jenkins has earned a reputation as a spot-up shooter who does the bulk of his scoring from three-point range. During his first two seasons, 75 percent of his field goal attempts have been from distance.
Based on his statistics, Jenkins' junior season does not appear to be any different. He leads the team in three-point attempts, which account for just over 72 percent of the shots he has taken this season. 
But on the court, Jenkins' game looks much different than in the past. His versatility is on display during almost every Villanova possession. 
He uses his identity as a three-point shooter to get defenders in the air with a pump fake and has become excellent at drawing fouls on the perimeter. From the free throw line, Jenkins is shooting 80.9 percent, so his ability to draw fouls provides high percentage offense for the Wildcats.
When he's not drawing contact on the outside, Jenkins has shown that he is not afraid to drive to the basket. 
He uses his thick, 6-6, 240-pound frame to get position against defenders and will occasionally break out a spin move to help create separation.
Finally, Jenkins has given Villanova another option on the low block this season. He dribbles and moves with confidence and has used a wide range of moves to convert his opportunities inside. 
The broadening of Jenkins' offensive skillset certainly helps the Wildcats, but it does not necessarily come as a surprise to his coaches and teammates.
"He's a great passer out of [the low post] and he's a mismatch," Wright said about Jenkins. "We try to use him that way, so he's been really valuable to us."
Wright also mentioned that Jenkins was more of an inside scorer in high school, so he and the rest of the Wildcats are not really surprised by his increased role as a post player.
"He probably has the most array of moves down there," senior forward Daniel Ochefu said. "And for his size, it's impressive what he can do on bigger guys."
This mismatch described by Wright and Ochefu is reminiscent of the type matchup problems that former Wildcat forward JayVaughn Pinkston created for opposing defenses. 
Despite being shorter than a lot of the forwards that guarded him in the post, Pinkston had polished a wide variety of low post moves that kept defenders guessing.
Although Pinkston may have had a one- or two-inch height advantage compared to Jenkins, one will notice a lot of similarities when watching the latter operate inside.
The increase of Jenkins' offensive versatility would not have been possible without hard work and dedication, both of which were quickly acknowledged by his senior teammates, Ochefu and Ryan Arcidiacono.
"He definitely has better stamina," Arcidiacono said with a smile after thinking back to Jenkins' physical shape early in his career.
Ochefu referenced Jenkins' history of putting in extra work when the team did not have practice and spoke very highly of his teammates' commitment to improving himself.
Wright does not think Jenkins has reached his peak as a Wildcat. Instead, he sees Jenkins' becoming more of a playmaker in every aspect of the game.
Some of Jenkins' recent performances suggest he may already be headed in the right direction. He had seven assists last month against Providence, and recently recorded his first career double-double with 14 points and 11 rebounds against St. John's last Sunday.
The praise of Jenkins' work ethic and improvement from Villanova's head coach and senior leaders tells the grand story of how far Jenkins has come in two and a half years with the program.