Bridges' versatility adds a new dimension to 'Cats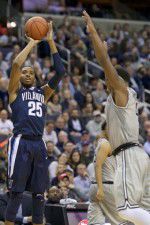 Villanova freshman forward Mikal Bridges is indiscriminate when it comes to his taste in music.
"Music? I got a whole lot, it's just a real mix of everything, you know?" Bridges said following a practice last week.  "[I got] Future, and still got Justin Bieber and all that."
"A real mix of everything" just so happens to also sum up Bridges' game. The 6'7", 191-pound swingman has burst onto the scene in his first season on the court for the Wildcats, acting as the team's personal Swiss Army knife. Bridges can defend almost any opposing player, and head coach Jay Wright has not hesitated to experiment with his new toy on the defensive end of the floor.
"He's really versatile," Wright said, acknowledging how crucial Bridges' adaptability is to his defensive scheme. "I think we have improved defensively as he has improved, meaning as we've been able to get him on the court more."
The numbers bear out that statement: As of Sunday, the Wildcats defense ranks third in the nation in adjusted efficiency this season, per KenPom.com, which would be their highest ranking by that metric since its inception. 
Additionally, 'Nova leads the Big East in two-point field goal percentage allowed since conference play began. The Wildcats have improved in virtually every defensive category from last season, and it is no accident that development has coincided with Bridges' rise.
Bridges' influence on the team this season comes following a year of being stashed deep within Wright's program. After averaging 18.5 points and 7.2 rebounds per game and earning all-state honors during his senior year at Great Valley High School, the Malvern, Pa. native played only 28 total minutes in exhibition games for the Wildcats last season before being redshirted later that fall. 
While Bridges initially hoped to play an on-court role for last season's Big East champions, it eventually became clear that would not be the case. According to Bridges, Wright approached him and his family about redshirting in the season's infant stages. 
 "I'm young for my [grade], so when [my parents and I] thought about it, we liked the idea and so I went with it" Bridges said.
As it turns out, sitting out a season was the perfect fit for Bridges. He spent his time off the court working on his body and his game, adding muscle to his incredibly lanky frame to bulk up for the rigors of a college season. He credited the Wildcats' strength and conditioning coach, John Shackleton, for his physical improvement, but also mentioned a few other former Wildcats as well. 
"Playing last year against Dylan [Ennis] and Darrun [Hilliard] and JP [JayVaughn Pinkston] and them being so physical, just playing against them I knew I was going to be ready for this year." Bridges said. 
Practicing against such high -quality competition has clearly benefitted Bridges' development and his willingness to take on the tough defensive assignments. On Saturday afternoon against Providence, he eased himself into the game by coming off of the bench to battle the Friars' junior guard Kris Dunn at the point of attack. 
The Wildcats held Dunn, the reigning Big East Co-Player of the Year and potential NBA lottery pick, to 11 points on 4-of-15 shooting. While taking out Dunn was a team effort, there can be no denying Bridges' defensive dominance played an immense role in shutting down Providence's superstar.
"Any time he comes into the game you know he's going to be on the other team's best player," 'Nova senior guard Ryan Arcidiacono said. "It just gives you more confidence having another defender like that."
Bridges has certainly earned that confidence over the course of his first real season. Villanova's schedule is littered with victims of Bridges' Reed Richards-esque length and precocious defensive instincts, Dunn included.
Against the Hoyas last month, for example, Bridges spent most of his time in the second half harrying Georgetown senior guard D'Vauntes Smith-Rivera after Smith-Rivera scored 10 points in the first. Bridges arms, perhaps better known for their ability to seemingly swallow entire galaxies whole, ensnared one of the Big East's premier players, swatting shots and constantly forcing Smith-Rivera into uncomfortable situations.
Yet despite his ability to lock down some of the best perimeter players in the country when Villanova plays man-to-man, Bridges' best defensive attribute actually comes as the point-man in the Wildcats lethal 1-2-2 full court press. 
His rare mix of size and athleticism can wreak havoc for the smaller guards attempting to navigate those dangerous waters, and, should the opposition break the press, his ability to switch on everyone is an invaluable asset when the 'Cats have to scramble into half-court position. 
Bridges' spot in the press can be taxing, but fortunately for Villanova, he revels in the opportunity to play baseline to baseline. 
"My favorite is just picking up full court, just getting into a guy and slowing him down," Bridges said. "If we get a turnover, it gets my team all hype and gets us ready [to go], so I try to set the pace for that."
Though his offensive impact has not quite caught up to the way he changes the game defensively, Bridges' has shown flashes of brilliance on that end, too. He is deceptively quick off of the bounce, and has developed into an excellent outlet for lobs. He is second in the nation in two-point field goal percentage (74.5), a number buoyed by his borderline impossible ability to convert at the rim. As of Sunday, Bridges is making a preposterous 83.7 percent of his shots at the basket, per Hoop-Math.com.
Of course, he is far from a finished product. After a serviceable start to the season, Bridges three-point shooting has dipped below 30 percent, and he is only 2-of-8 on mid-range jumpers through Sunday. Bridges believes that, in addition to improving his shot making ability, he needs to work on other aspects of his offensive game too, such as refining his straight-line drives and passing. He is also critical of his rebounding.
"I gotta rebound the ball better," Bridges said. "I feel like with my length and the position I play I should be able to rebound the ball better than I do now."
Wright has a different idea of what he thinks his young star-in-the-making needs to work on most.
"I think his attention to detail defensively off the ball," Wright said of Bridges' next developmental step. "He's really good guarding the ball, you know, ball screen coverage. But on some of our rotations off the ball he gets a little lost, because he's a freshman."
Based on how quickly Bridges has adapted to the college game so far, something Wright did not hesitate to point out, it is likely only a matter of time before  he picks up those concepts and starts using them to terrorize opposing players defensively in yet another way.
For now, however, Bridges will have to settle for being a dynamite role player with tantalizing upside on one of the best teams in the country.  
Perhaps it is fitting, then, that he likes to jam out to Future in his spare time. 
Bridges has finally arrived for Villanova this season, but the flickers of promise he has shown already this year are just a peek down the road at his possibly limitless potential.