Doubters make victory that much sweeter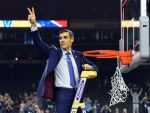 After the Final Four matchups were set, Mark Cannizzaro published an article on the New York Post titled "Villanova has no shot of stopping Buddy Hield." Sure, Hield netted 37 points to lead his team to the Final Four, but didn't he recognize whom Hield would be facing in Houston?
Even Hield himself felt quite confident going into last Saturday's game versus the Wildcats.
"Nah, they're not the toughest," Hield said of Jay Wright's squad in a recent interview with 6ABC Philadelphia with a smile on his face. "West Virginia is the toughest team that we've faced all year. I'm a scorer, that's what I do. I'm going to keep on being aggressive."
Days later, Villanova stomped Hield and his Oklahoma Sooners, 95-51. 
Hield was not the scorer on Saturday night that he claimed himself to be, after the 'Cats held him to just nine points. Six Villanova players outscored Hield, the Naismith Player of the Year, who only had one other single-digit scoring game that year— his final regular season contest against eventual No. 3 seed West Virginia. 
What do you have to say now, Cannizzaro?
Villanova's 71.4 shooting percentage from the field landed it second in the Final Four record book…behind the Wildcats' 1985 championship squad. In addition, the 44-point win over Oklahoma on Saturday was the largest in Final Four history. 
Simply put, Villanova dominated in every facet of the game for 40 minutes.
Also, if you were wondering, the 'Cats scored more points in the second half (53) than the Sooners scored in the entire contest. 
The Wildcats have scored more than 85 points in four of their five tournament games leading up to the championship. The team's 95-point performance versus the Sooners tied its season high matching the 95-64 win over Xavier on New Year's Eve.
Thanks to its dominant performance against Oklahoma, Villanova rightfully earned its chance to face one-seed University of North Carolina in the national championship game. The contest proved to be a back-and-forth battle that left many Wildcat fans praying for the entire game. Little did they know Jenkins would knock home a three at the buzzer after an unselfish pass by the Final Four's Most Outstanding Player, senior Ryan Arcidiacono, to earn Villanova its second title in school history.
The 2016 championship team is the first national champion to conquer four AP Top-10 teams in a single NCAA tournament since the 1985 squad. Quite impressive.
Just like Cannizzaro, few believed in Villanova throughout the tournament. 
Some from ESPN picked against the Wildcats game after game. ESPN staff writer Myron Medcalf made a bold prediction that if the Wildcats were to face Philadelphia Big 5 rival, Temple, the Owls would knock out Villanova. 
Even after Villanova crushed North Carolina- Asheville by 30, dominated a solid University of Iowa team by 19, routed a three-seed University of Miami by 23, overcame overall one-seed Kansas and left the country in amazement after its 44-point victory over Oklahoma, fans and analysts alike still picked against Villanova for the championship.
According to ESPN College GameDay's Twitter, former Duke University standout Jay Williams, ESPN analysts Jay Bilas and Dick Vitale, along with former University of Connecticut men's basketball coach Jim Calhoun picked UNC over Nova. ESPN analyst Seth Greenberg was the sole correct pick, having chosen Villanova. Greenberg's daughter is a VU student.
In an interview following Monday night's game, Big East reporter Cayleigh Griffin asked Kris Jenkins, "Starting in the second round, all the experts picked against you guys, every single game. Did that get you guys fired up, or what was your response?"
"Well we were always motivated," Jenkins said, while nodding and hugging the championship trophy. "The motivation comes from within cause we always want to go out and play Villanova basketball. If a team's good enough to beat us and we play Villanova basketball, we'll tip our hat to them. But the experts, everybody definitely picked against us, and I watched every single show. And if I ever get an interview with all of them, I'm going to let them know that this trophy look good coming back to Philly."
Sure, UNC had five national titles under its belt coming into Monday night's game in comparison to Villanova's one. But with the momentum and impressive stats that the 'Cats have put up over the past month, playing their best basketball of the year, didn't outsiders of Villanova recognize this trend? The team's loss to Seton Hall in the Big East Tournament Championship is quite a distant memory now.
The University's campus has been swelling with an uncontrollable level of pride and has brought the already present community even closer. The country said the Wildcats couldn't do it. Because of them, victory tastes even sweeter for the Nova Nation. 
Will the doubters keep doubting (ESPN, we're looking at you)? If they're smart, they'll believe in Villanova basketball next season.